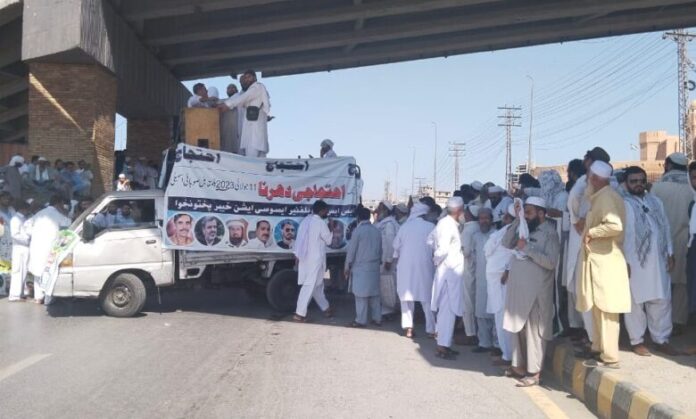 Aftab Mohmand
Hundreds of secondary school teachers in Khyber Pakhtunkhwa took to the streets to protest against the lack of promotion. Zulfikar Ahmad, the President of the Secondary School Teachers Welfare Association Khyber Pakhtunkhwa, stated during the protest in front of the Provincial Assembly that thousands of SST (Secondary School Teacher) teachers who were recruited in 1991 have remained in grade 16 even after 32 years, without any promotion.
Zulfiqar mentioned that both the previous MMA government and the Awami National Party had promised to upgrade the SST teachers' scale from 16 to 17 during their respective terms in power. Furthermore, in 2015, the Khyber Pakhtunkhwa government of Pakistan Tehreek-e-Insaf passed a resolution in the provincial assembly approving the promotion of SST teachers from grades 16 to 17.
He explained that the SST teachers filed a writ petition in the Abbottabad Bench of the Peshawar High Court to ensure the implementation of the resolution. After winning the case, the High Court ruled in their favor. However, due to the non-compliance of the court's decision, the SST teachers approached the Supreme Court of Pakistan, which issued a contempt of court notice to the Khyber Pakhtunkhwa government.
Also Read: Governor's Interference Sparks Political Discord in Khyber Pakhtunkhwa
Zulfiqar further stated that on January 7, 2023, the Pakistan Tehreek-e-Insaaf government approved the regular promotion of SST teachers during a cabinet meeting. According to the decision, the implementation of the promotion was supposed to commence on July 1, 2023. However, even after 11 days, no official announcement has been made.
The General Secretary of the Secondary School Teachers Welfare Association Khyber Pakhtunkhwa, Farhad Takkar, informed TNN that there are approximately 22,000 SST teachers in Khyber Pakhtunkhwa, including thousands of female teachers in the department. Despite winning the case, and obtaining assembly and cabinet approvals, their promotion from grade 16 to 17 has not been realized. The upgrade would not only affect their basic pay scale but also increase their salary and other allowances.
Responding to the issue, Finance Secretary Aziz ur Rehman Amin stated that CT, DM, PET, PST, TT, and other teacher categories have been promoted, but SST teachers are facing delays. He mentioned that the excuse of the caretaker government, stating that they lack authority, is not acceptable. Many employees in the provincial agriculture department were recently promoted from grade 11 to 16.
According to Amin, thousands of concerned SST teachers have noticed their exclusion from the recently announced four-month provincial budget, adding to their worries. As a result, they have taken to the streets, demanding immediate promotion before returning home.
Caretaker Provincial Education Minister Rehmat Salam Khattak responded, stating that upgrading SST teachers would impose an annual burden of 28 billion rupees on the treasury, and the caretaker government lacks the authority to grant the promotion.
He mentioned that the long-standing demand of the teachers for promotion from grades 16 to 17 could be addressed by the incoming government after the general elections.
Hits: 29