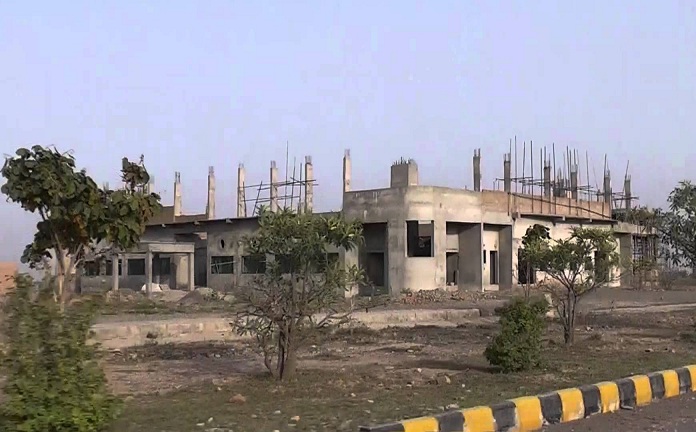 Rifaqatullah Razarwal
Over the past 5 years, the Charsadda district in Khyber Pakhtunkhwa has witnessed the conversion of vast expanses of agricultural land into sprawling construction projects. This trend, however, has not only led to the depletion of under-cultivated land at the local level but has also disrupted the irrigation system crucial for the surrounding agricultural areas. Experts caution that this shift from agricultural to commercial land use could result in food shortages and exacerbate rising temperatures.
Officials from the Tehsil Municipal Administration reveal that a private housing society has recently emerged in the Chak Nisatta area of Charsadda district, adjacent to the Peshawar Motorway. The construction endeavor spans around 500 kanals of land, with plans to encompass an additional 5.5 thousand kanals of under-cultivated land within its scope.
Abdullah Jan, a long-time resident of Chak Nisatta, has witnessed the transformation unfold near his village over the past half-century. As a private housing society appropriates thousands of acres of land, he laments that this venture has disrupted the irrigation systems essential for the livelihoods of the hundreds of local farmers in the area.
Also Read: Floodwaters Engulf Homes in Tank: Community Joins Relief Efforts
Abdullah Jan points out that the housing society's construction site lies alongside the Swat River to the south and the Jindri River to the east. He recounts the devastation wrought by the 2010 floods, where the entire population was submerged in waters reaching 5 to 8 feet. He urges potential buyers not only to reconsider purchasing land susceptible to flooding but also to advocate for the preservation of agricultural spaces.
Expressing concern, Abdullah Jan emphasizes that not only may this construction project be at risk from future flooding, but the population living there could also be vulnerable. He further asserts that appeals to Deputy Commissioner Charsadda, DPO Charsadda, TMA, and the National Highways Authority to safeguard agricultural lands and local inhabitants have gone unanswered.
Residents of Chak Nisatta assert that private housing societies have encroached upon approximately 60,000 kanals of agricultural land in recent times, causing significant harm to food crops. Tauseefullah, a 30-year-old from Chak Nisatta, laments the diminishing availability of land that previously supported the cultivation of vegetables, sugarcane, grains, and cereals. The conversion to residential projects has led to the depletion of these vital resources.
Tauseefullah highlights the productivity of the land, noting that one-acre yields at least 40 maunds of wheat and sugarcane each. Moreover, these lands are conducive to the cultivation of fruits and vegetables. With 60,000 kanals accounting for 7,500 acres, the potential waste of 280,000 maunds of wheat, jaggery, and sugar looms large.
He stresses that countless individuals whose livelihoods were intertwined with these lands now find themselves unemployed. As the province already grapples with food scarcity and depends on Punjab for sustenance, this predicament could intensify in the coming years.
Disadvantages of Converting Agricultural Lands into Commercial Plots
The surge in construction projects is largely attributed to the escalating population growth, a concern raised by environmentalists. They caution that this population increase could lead to adverse outcomes, including elevated temperatures, dwindling food resources, and a declining water table.
Dr. Hizbullah Jan, a Professor at Peshawar University's Department of Environment, explains that greenery and crops on land naturally absorb water from the soil, maintaining a perpetually functioning water cycle. Additionally, these plantations play a crucial role in absorbing carbon dioxide and releasing oxygen into the atmosphere, thereby sustaining life on Earth.
Dr. Khazabullah elaborates, "Another factor contributing to rising temperatures is the removal of vegetation from the surface. The construction process involving cement, bricks, and other materials generates heat, which in turn warms the atmosphere. Furthermore, the increased usage of appliances like air conditioners and refrigerators within the growing population also contributes to atmospheric heat."
Despite the existence of laws governing settlements on agricultural lands, their enforcement remains inadequate. Dr. Khazabullah warns that if this trajectory continues, research suggests that global temperatures could rise by 1 degree Celsius by 2025 and a staggering 4 degrees Celsius by 2050, making the planet increasingly inhospitable. Thus, effective population control measures are paramount.
Pakistan's statistical office reveals that the latest census (2023) indicates the country's population has exceeded 241.4 million, a stark contrast to the previous census figure of 207.74 million.
Environmental Change and Population Growth
Syed Shah Raza Shah, a senior journalist in Charsadda, underscores that Pakistan ranks among the ten countries most susceptible to climate change. He asserts that population growth remains a driving force behind these environmental shifts.
Shah points out that each decade, the census reflects an approximately 3 percent population increase. Consequently, there is a growing demand for housing to accommodate this expanding populace. To counteract this, Shah advocates for population control and a shift towards smaller construction projects.
Shah further raises concerns over the purchase of multi-million rupee plots in sprawling projects like Bahria Town, City Housing, and Nova City by the elite. He emphasizes the need to address this trend, suggesting that while the affluent may acquire such lavish homes, the associated electricity and gas expenses could be equivalent to the utility costs of fifty modest homes owned by lower-income individuals. Therefore, comprehensive population control measures are crucial to maintain equilibrium.
Rules and Regulations for Housing Societies
The Tehsil Municipal Administration (TMA) officials in Charsadda district have identified a deficit in the documentation of mega project proprietors, leading to notices being issued to them.
Iqbal Hussain, a TMA official, informed TNN that previously, the proprietors of the Charsadda city housing construction project had obtained a No Objection Certificate (NOC) for development on approximately 400 kanals of land under the designation "Mini Rate 9." However, the construction has now commenced without modifying the title of the NOC, resulting in a notice being served to them.
By Khyber Pakhtunkhwa's new code of conduct and regulations for housing society construction, a tax of 2 crore rupees must be paid for mega housing schemes encompassing over 500 Kanal lands. Likewise, projects spanning 200 to 500 kanal land require 50 lakh rupees, those within 100 to 200 Kanal land necessitate 25 lakh rupees, while 5 lakh rupees is obligatory for 50 to 100 Kanal land and 2 lakh rupees for 10 to 50 Kanal land.
The stipulations also dictate that a 50 to 100-kanal construction endeavor must allocate 5 percent of its space for open areas such as parks, mosques, and forests. For mega schemes encompassing 500 kanals and above, 7% open space and 2% must be designated for graveyards. Moreover, commercial markets should occupy 5 to 10 percent of the land, with garbage disposal areas spanning from 5 marlas to 4 kanal. The framework additionally mandates the inclusion of roads ranging from 30 to 120 feet, as well as a power-grade station as per population needs.
Hussain emphasized that by the regulations, the responsibility for provisioning gas, electricity, and water amenities to the housing society rests with the proprietors. Non-compliance with these regulations could result in the sealing of properties owned by those who fail to adhere to the guidelines.
Hits: 12