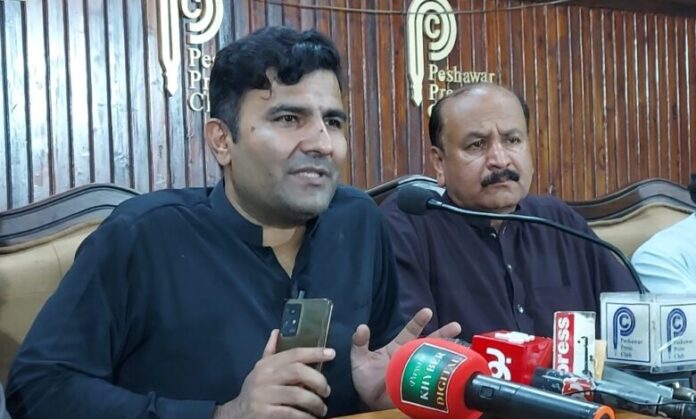 Misbah ud Din Utmani
Hunari Tolana Welfare Society (HTWS), an organization comprising singers and musicians in Khyber Pakhtunkhwa (KP), has lauded the government's initiative to establish Gorkhatri Music Street, emphasizing that it will secure the future of over 1200 artists.
During a press conference held at the Peshawar Press Club, Dr. Rashid Khan, the Central Chairman of HTWS, highlighted the historical significance of music streets in Qisa Khwani and Ghanta Ghar Bazar even before the creation of Pakistan.
However, these music streets were later abolished, and a larger music street was established in Dabgari, attracting tourists from around the world who enjoyed immersing themselves in our rich cultural heritage.
Also Read: Political Parties in KP Demand Removal of Governor Amid Growing Discontent
Dr. Rashid Khan mentioned that Dabgari Bazar served not only as a music street and a popular tourist spot but also as a music academy. Enthusiasts would flock there to learn various art forms. Unfortunately, in 2005, a group opposed to music attacked Dabgari Bazar for personal gain. They vandalized our musical instruments in broad daylight, set our offices ablaze, and tarnished the image of Peshawar in the eyes of the global community.
He further stated that the situation has now changed, and for the past five years, they have been urging authorities to establish a music street for artists, but their pleas went unnoticed.
Dr. Rashid Khan emphasized the need for a dedicated environment for artists and musicians, as they cannot thrive in a regular neighborhood. Some people might be disturbed by music, making it crucial to provide a separate space where they can freely express their art.
Drawing a parallel, Dr. Rashid Khan questioned why there are gymnasiums for physical fitness and food streets for culinary delights but no dedicated streets for music. He underscored that the artist community is significant, comprising thousands of individuals, and it is essential to establish a music street to preserve their talents. This endeavor will enhance the prestige of Peshawar, attract tourists, boost local businesses, and provide artists with a sense of belonging.
Expressing gratitude, Dr. Rashid Khan extended his thanks to the Secretary of Culture and the caretaker government for their commitment and concerted efforts in establishing "Gorkhatri Music Street." He acknowledged their assurance to prioritize this initiative and collaborate with HTWS in bringing it to fruition.
Hits: 21