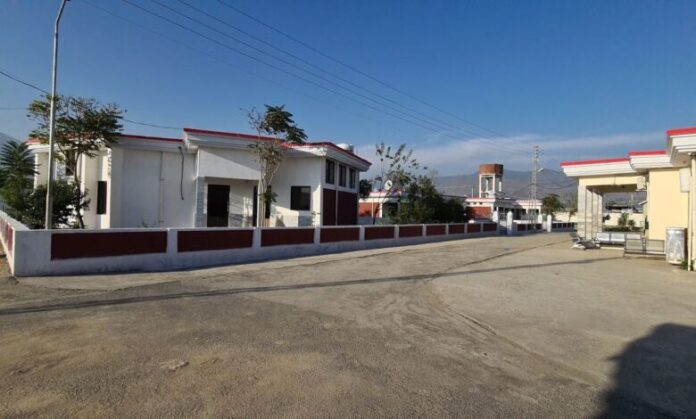 Misbah ud Din Utmani
"I experienced excruciating pain throughout my body. My husband and I went to the most senior doctor in our village seeking treatment. However, as soon as he injected me with Voren, my right hand ceased to function. Despite undergoing nine operations over the course of two years, my hand remains disabled," shares Musarat Bibi, a 20-year-old mother of three from Utmanakhel Tehsil in Bajaur.
Sitting on a cot in the courtyard, lost in contemplation, Musarat Bibi recounts, "The doctor mistakenly injected the medication into a nerve instead of a muscle, causing my hand to stop working. They dismissed it as a minor issue and advised us to visit the district headquarters hospital in Khar, assuring us that it would improve within a day or two. However, upon reaching the hospital, our concerns grew when we discovered that the only available treatment was in Peshawar. I underwent nine surgeries, but to this day, my hand has not fully recovered."
Also Read: Family Massacre in Malakand: 9 Killed over a domestic Dispute
With a heavy sigh, she expresses, "I wish I could have endured the pain and avoided visiting that village doctor. My husband, a daily wage earner, borrowed hundreds of thousands of rupees for my treatment, but the doctor has never shown any concern for our situation. As impoverished individuals, we cannot afford to pursue legal action against him or seek help from the police or the courts."
Like Musarat Bibi in Bajaur, thousands of people suffer either loss of life or lifelong disabilities due to inexperienced, unlicensed doctors, and unqualified nurses operating in illegal healthcare centers. Despite the merger of FATA in 2018, there has been no establishment of a healthcare commission in the tribal districts, nor any system to take legal action against illegal clinics and providers.
According to the 2017 census, Bajaur has a population of 1,093,684 individuals. The health department has established 44 healthcare centers, including one district headquarters hospital, three category D hospitals, two RHCs, 19 primary health centers, and 19 community health centers to cater to the population.
These healthcare centers employ a total of 827 staff members. However, it is estimated that each tehsil of Bajaur harbors approximately 20 to 25 illegal and unregistered clinics operated by undocumented and unqualified individuals posing as doctors.
When questioned about illegal healthcare centers, unqualified doctors (or quacks), and substandard medications, District Health Officer Faisal Kamal stated that an operation has been initiated against illegal laboratories, medical stores, and counterfeit medicines. Medical stores lacking proper licenses will be sealed. He emphasized that no one will be permitted to run illegal medical stores in Bajaur.
However, regarding illegal healthcare centers and unlicensed doctors, he explained that it falls under the jurisdiction of the Health Care Commission, which currently lacks the necessary staff and office presence in Bajaur. Nevertheless, efforts have commenced to establish and activate the commission in Bajaur soon.
The Role of Khyber Pakhtunkhwa Healthcare Commission
The Khyber Pakhtunkhwa Health Care Commission is a governmental institution established under the Khyber Pakhtunkhwa Health Care Commission Act 2015. It serves as the regulatory body for the healthcare sector in the province. The commission is responsible for the registration and licensing of health centers, as well as taking legal action against unqualified doctors and quacks. It holds powers equivalent to civil courts as granted by the Constitution.
Wajid Ali Shah Utmani, Chairman of Bajaur Youth Jirga and a social worker, highlights the prevalence of unqualified and unlicensed doctors operating in illegal clinics in Bajaur. These practitioners jeopardize people's lives by prescribing medications without proper diagnosis, leading to deteriorating health conditions. Despite the merger of FATA with Khyber Pakhtunkhwa five years ago, no significant action has been taken by the Healthcare Commission in the region.
Shah urges the commission to initiate its operations in Bajaur, ensuring that people receive optimal healthcare facilities.
Several health centers in Bajaur remain inactive due to staff shortages. In tehsil Salarzai, two community health centers (CHCs) are inactive, along with one each in tehsil Khar, tehsil Utmankhel, and tehsil Mamund. The construction cost of these centers in 2014 amounted to Rs. 6 million.
A representative from the Bajaur Health Department explains that while staff approval for these centers was granted in 2020, the ban on new recruitments imposed by the then Health Minister, Taimur Saleem Jhagra, prevented their functioning. The centers currently provide limited services, including one EPI technician, one LHV, one dispenser, one midwife, and two class IV staff members.
In addition to unqualified doctors and illegal health centers, there are also numerous unregistered medical stores in the merged districts. To address this issue, drug inspectors have been appointed following the 25th constitutional amendment.
Usman Amin, a drug inspector, mentions the lack of awareness in these backward areas and highlights the efforts being made through awareness seminars and counseling. Bajaur has a total of 371 medical stores, with only 23 pharmacists in the entire district. Five pharmacists operate medical stores in Bajaur, while the remaining 18 are employed in government positions in different areas.
Amin emphasizes the importance of having a license to open a medical store, which requires the completion of a two-year pharmacy diploma or a five-year course by a Doctor of Pharmacist. However, leniency is being shown in Bajaur to allow people the opportunity to meet legal requirements.
Bajaur is the first district where a college has been authorized to offer a two-year diploma in pharmacy. Currently, 150 medical store operators are enrolled, with the first batch expected to graduate next year, followed by subsequent batches. This initiative aims to bring medical stores in Bajaur under the purview of the law.
Regarding illegal health centers and unqualified doctors, Drug Inspector Usman Amin states that it falls under the jurisdiction of the Healthcare Commission, and their role is not directly involved in these matters.
According to data provided by the Khyber Pakhtunkhwa Health Care Commission, their team inspected 762 health centers across 19 districts from November 1, 2022, to November 27, 2022. As a result, 137 centers were sealed, and notices were issued to 89 centers. Swat and Abbottabad witnessed 152 and 106 inspections, respectively. However, the tribal districts were not included in the inspections.
Regarding unregistered clinics and unqualified doctors, Dr. Nadeem Akhtar, the Chief Executive of the Khyber Pakhtunkhwa Health Care Commission, emphasizes that every health center responsible for providing healthcare services to patients must register with the commission and obtain a license while adhering to the set standards. Failure to register or apply for a license constitutes illegal activity, and legal action can be taken against such practitioners and clinics.
Difference between registration and License
The difference between registration and a license lies in the process and purpose. When a new clinic or laboratory is opened, it needs to be registered with the Health Care Commission. This involves providing the commission with the name and location of the establishment. Registration signifies the acknowledgment of the existence of the healthcare facility by the commission.
After registration, the operators of the healthcare institution are given a period to demonstrate their ability to provide quality healthcare services to patients. The Health Care Commission assesses whether the facility meets the required standards and provides satisfactory health facilities. Only upon complete satisfaction and fulfillment of the set criteria, a license is granted to the healthcare center.
The Health Care Commission carries out inspections of various health centers. In the year 2022, approximately 7,000 health centers were inspected. Among them, around 800 centers were sealed due to unsatisfactory health facilities, and notices were issued to 1,600 centers. The cases of these centers are heard at the central head office. Following the hearings, the centers are either given an opportunity to improve, face permanent closure, or even face legal consequences, such as imprisonment.
Regarding medical practitioners, the Health Care Commission investigates any allegations of negligence or malpractice. Special committees are formed for this purpose. In the year 2022, the commission received around 1,300 complaints related to such matters. Out of these, approximately 1,000 complaints have been addressed, while around 300 are still under investigation or being worked on.
Absence of Health care commission
The absence of a health care commission in the merged districts is primarily due to the lack of a dedicated office and limited resources. Dr. Nadeem Akhtar, the Chief Executive of the Khyber Pakhtunkhwa Health Care Commission, explained that their organization does not have a physical presence in the merged districts, which hinders their ability to effectively carry out their activities there.
After the twenty-fifth constitutional amendment, many provincial institutions started operating in the merged districts. However, due to resource constraints and insufficient staff, the Health Care Commission has been unable to take action against illegal health centers and institutions in those areas.
Recognizing the need for intervention, Dr. Nadeem Akhtar mentioned that they have entered into an agreement with a private company to register and geo-tag health centers across the province, including the merged districts. This process will enable the commission to issue licenses to compliant centers and take legal action against non-compliant ones, such as sealing them.
Dr. Nadeem Akhtar expressed optimism that this registration and licensing process, in collaboration with the private company, will be completed in the merged districts within the current year. This initiative aims to enhance regulation and ensure the provision of quality healthcare services in those areas.
Please note that this story is part of a Pakistan Press Foundation Research Fellowship.
Hits: 3