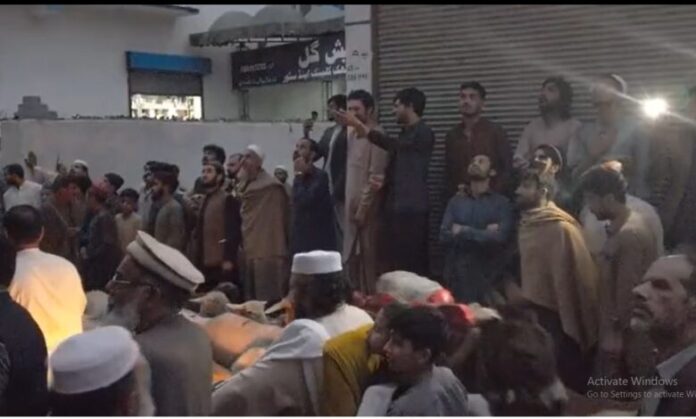 Mardan: A mob of local shopkeepers stormed a transgenders' balakhana (den) and broke musical instruments as they were playing loud music, while the police, instead of taking any due action against the raiders, also banned the transgenders from holding a music program at the den.
"Yesterday, transgenders organized a music party for their friend's birthday at Nandara Market near Judge Bazar in Mardan," a local shopkeeper told TNN, "and they were playing loud music, and dancing."
Angered by the loud music, local traders and people went to the den and ask them to stop as the music was being heard in the mosque as well, he said.
When the news of the incident spread, other shopkeepers and local residents also gathered on the spot and surrounded the balakhana.
Meanwhile, after being dispersed by the police, the angry public staged a protest in Judge Bazaar and blocked the road for traffic.
Also Read: Police refuse to provide protection to a transgender birthday party
Sources said, a few angry people hurled down the sound system from the balakhana and broke it, and shouted slogans against the transgenders. A video of the incident also went viral on social media wherein an angry mob is seen breaking musical instruments.
Locals allege that these eunuchs indulge in immoral activities in their den and playing loud music has now become their daily norm. They demanded the removal of transgenders from the market.
On the other hand, the police say that the matter has been resolved amicably and reconciliation has been done between the two parties.
Hoti police station SHO, Arif Khan, said that due to their timely arrival, the matter was saved from becoming more serious. "At that time, 50 to 60 angry people had gathered who were going to attack the transgenders," he said.
The SHO said he had to ban the transgenders from playing music and partying there and ask them to hold their birthday party in a marriage hall somewhere else to defuse the overall situation.
Arif Khan further said he is not aware of the angry public breaking the musical instruments, nor the concerned transgenders have filed any complaint in this regard, 'so the police will take no action against these people.'
On the other hand, Farzana, the head of TransAction, a provincial organization of transgenders, said that there has been a reconciliation between the two parties in this matter, and after that, the transgenders also celebrated their birthday at their residence.
However, local sources say that the upper house has been quiet since the incident, and no music has been heard from there yet.
It's pertinent to mention that every transgender person, when in middle age, celebrates a birthday party, once in a lifetime; a special occasion when he receive monetary support from the community to start a small business.
Hits: 31