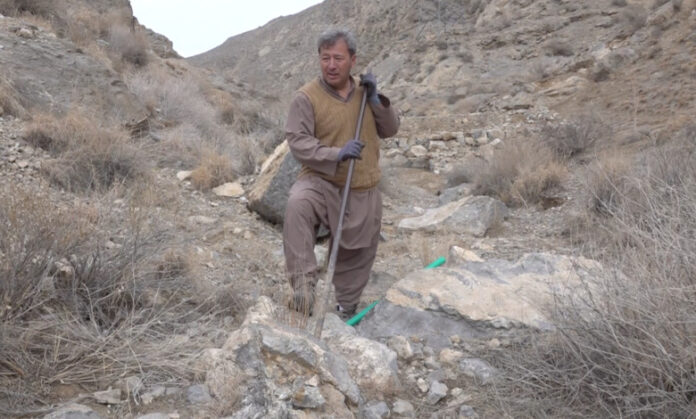 Aziz Sabawoon
Pakistan is among the top 10 disaster-vulnerable countries in the Global Climate Risk Index, while experts say most of the regions of Pakistan are already affected by climate change.
Compared to other provinces of the country, Balochistan has been facing serious problems due to climate change for the last two decades.
Thousands of people come to Quetta, a city with a population of 3 million, for the purpose of business, due to which among other problems, the citizens also face the lack of clean water, and this problem is getting worse day by day.
Keeping this in mind, 35-year-old Mazhar Ali from the Hazara community has started building a dam called 'Baba' in Lamardar hill, 13 kilometers from Quetta, which is currently six feet high and 12 feet wide, while the length is 40 feet.
Talking to TNN, Mazhar Ali said that he has started working on the dam in memory of his father, and he visits the place two to three times every week for the said purpose.
"I started this in August 2021 in memory of my late father, and that's why I named it 'Baba Dam. If I can make it, I come here to work." He informed TNN.
He travels four hours from the city and after six to seven hours of continuous work, he packs his belongings and returns in the evening.
Mohammad Shoaib, a technical engineer accompanying Mazhar, said that although the people living in Quetta will not benefit from this dam directly, it will be very useful for the birds and animals living in the mountains.
Muhammad Shoaib is hopeful that due to the accumulation of water in the dam, the animals that migrated from the mountains of Quetta years ago will settle back.
"Basically, this dam is not big enough that the water stored in it can be used by the residents of Quetta, but it will allow the animals that were forced to migrate from here years ago due to lack of water to settle back in these mountains which is quite necessary and beneficial for the environment." He argued.
Mazhar Ali brings with him weekly water as well as grain for the birds from Quetta so that before the dam is built, the birds will start coming to the area.
Hits: 24