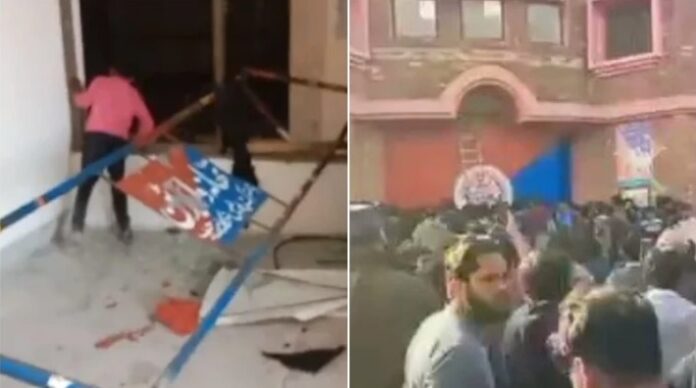 A mob lynched a blasphemy accused after attacking a police station in Nankana district of Punjab on Saturday.
Police said that the incident took place in the Warburton area of Nankana, where a blasphemy accused  was detained on charges of blasphemy. Police personnel including the station house officers fled to save their lives when the mob stormed the police station.
The accused was freed after spending two years behind bars. The locals had accused the slain of desecrating the holy books for magic.
Punjab government has suspended the DSP Nankana circle Nawaz Virk and SHO Warburton Feroz Bhatti following the lynching of the accused.
On the other hand, Prime Minister Shahbaz Sharif also ordered an investigation over police failure to control the mob. He said that state writ must be ensured and no one should be allowed to take law into their own hands.
The premier said that maintenance of law and order was the first priority of the law enforcers and it should be maintained at every price.
Punjab caretaker chief minister Mohsin Naqvi also directed the Punjab police chief to submit a report regarding the incident. He said that strict action shall be taken against the those taking law into their own hands.
Similarly, Chairman Pakistan Ulema Council Hafiz Tahir Ashrafi termed the lynching of blasphemy accused as barbaric act. He demanded that for immediate arrest of the mobsters for murdering the accused.
Besides, Hafiz Ashrafi also demanded the authorities to try the mobsters trial in an anti terrorism court. He said that no group, individual or party has any right to take law into their own hand.
On the other hand, videos shared on social media showed that mob including children scaling the gate of the police station and storming the facility and vandalizing the police station.
Hits: 13