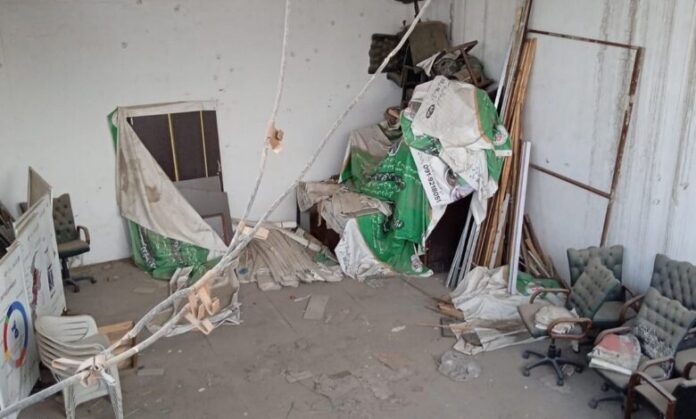 Aftab Mohmand
Peshawar City's sole squash court, once a thriving hub for athletes, now languishes in disrepair, transformed into a junkyard due to years of neglect. This closure of the squash court situated at the Government Technical and Vocational Center in Gulbahar has dealt a severe blow to the sporting community, leaving athletes in the city without a place to train and compete.
Local residents, including Muhammad Ali, Zakirullah, Faizan, Muhammad Shoaib, and others, recounted the court's storied history. It was established in the 1980s with support from the German government, with the noble goal of promoting sports at the city level. It attracted scores of young athletes from Gulbahar, Shahdhand, Qadirabad, Nishtarabad, Sikandar Town, and other urban areas, providing facilities for various sports, including squash, karate, basketball, and martial arts. Coaches and enthusiasts took it upon themselves to cover expenses, such as electricity bills and monthly rent payments to the college administration.
Initially managed by a German supervisor, the responsibility for the court eventually fell to the college administration. Unfortunately, the court was temporarily shuttered, and it has since been left to deteriorate, now serving as a storage space. Another court within the college's purview, intended for karate, shares a similar fate, its doors remaining locked.
Also Read: Dispelling Myths: The Link Between Menstruation and Infertility
Efforts to reach out to the college administration have yielded little response. Even a visit by Peshawar's Mayor in July failed to rekindle sports activities at the facility, despite promises made. Local leaders have called on the caretaker chief minister and the provincial sports minister to intervene and breathe new life into these sports courts.
Former World Squash Champion Qamar Zaman expressed deep disappointment over the closure, highlighting the immense potential of Peshawar's young athletes, both male and female. He called upon the Provincial Sports Minister to not only restore these courts but also invest in additional facilities to ensure that budding players have ample access to sports resources.
Principal Saeed Ahmed of the Government Technical and Vocational Center, on the other hand, justified the closure to outsiders, emphasizing that these courts are exclusively reserved for the institution's students. He noted that the college conducts an annual sports gala where students actively participate in various sports. Saeed Ahmed reassured that sports activities will continue alongside academic pursuits once the new academic year commences, firmly denying any claims of the squash courts being closed.
Hits: 69