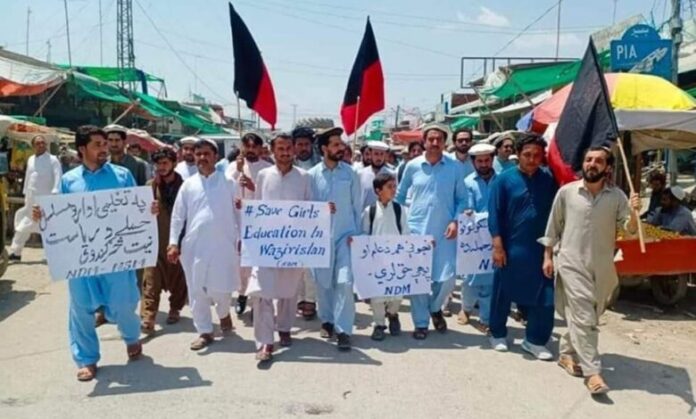 In Mir Ali Tehsil of North Waziristan, a protest was organized by the National Democratic Movement (NDM) workers condemning the recent bombings targeting schools. The protest saw the participation of Jamal Dawar, the party's provincial spokesperson, Asad Dawar, the district president, and a large number of workers.
Addressing the demonstrators, Jamal Dawar expressed deep regret over the bombings and linked these recent incidents with past attacks on educational institutions in the Pashtun region. He labeled it as a sinister conspiracy and called upon the state to ensure the protection of schools.
Also Read: Fact-check: Unraveling the Truth Behind the Viral Video of Shaukat Yousafzai
District President Asad Dawar demanded swift apprehension and severe punishment for those responsible for these heinous acts.
It should be noted that Government Middle School Noor Janat Gul Mussaki and Government Middle School Yunuskot Khasokhel were targeted with explosives on Monday night. Fortunately, no lives were lost in the bombings, but over five hundred students were affected. NDM activists denounced this as a vile scheme to hinder Pashtun's access to education.
According to district police, the incident is being treated as an act of terrorism, and the case has been handed over to the Counter Terrorism Department (CTD) for further investigation.
Hits: 21