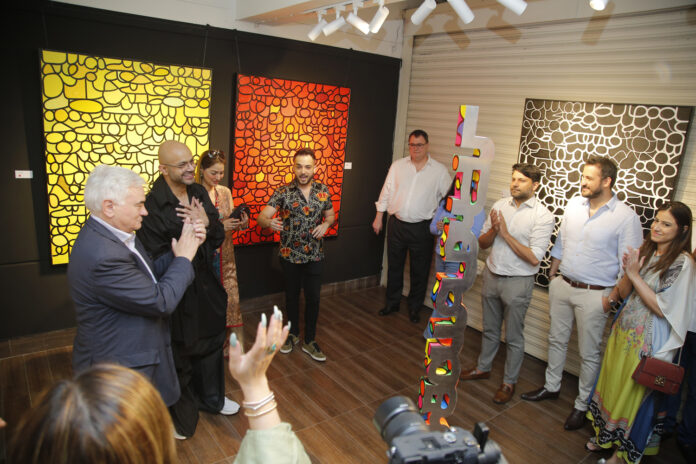 Lahore, Pakistan: Renowned artist Ahmer Farooq's captivating solo show titled 'A Safe Space' opened to the public on 6th May at the prestigious Pakistan Art Forum Gallery. The exhibition, featuring 17 paintings, 1 sculpture, and 1 NFT, delves into the significance of safe spaces within society and their role in nurturing subcultures.
The esteemed German Ambassador to Pakistan, H.E. Mr. Alfred Grannas, inaugurated the exhibition, joined by the Norwegian Ambassador, the US Consul General, and the head of Communications and Cultural Affairs at the German embassy. The event attracted a diverse array of foreign diplomats and art enthusiasts, further solidifying Farooq's reputation as a leading contemporary artist.
Also Read: Chilam Joshi festival in Chitral sees low turnout of tourists this year
'A Safe Space' challenges the conventional perception of society by celebrating and honoring marginalized communities. The exhibition pays homage to the spaces created by these groups, both as an act of defiance and as a fundamental necessity. These safe spaces serve as beacons of inclusion, connectivity, and the celebration of diverse identities and lifestyles.
Farooq's thought-provoking artworks shed light on the power imbalances inherent in society, creating a dichotomy between the 'self' and the 'other.' The 'other' encompasses individuals who are structurally marginalized, socially excluded, and lack the spaces necessary to live freely and integrate fully into society. This includes women, the queer community, and ethnic and religious minorities.
A visual artist based in Lahore, Pakistan, Ahmer Farooq has gained international recognition for his contemporary art that addresses contemporary concerns, anxieties, and aspirations. Using a vibrant and captivating color palette, Farooq's artwork captivates viewers, evoking a sense of introspection and allure.
Having received the prestigious Stephen Medd 'Artist of the Year Award' in 1999, Farooq's works have found their place in private collections worldwide, including China, Denmark, Germany, India, Japan, Norway, Pakistan, the UAE, the UK, and the USA, among others. His artistic journey began with formal and semi-formal training, including a foundational art education at Bedford Modern School in the UK, complemented by the acquisition of broader professional skills through an MBA from Imperial College.
Ahmer Farooq's solo exhibition, 'A Safe Space,' serves as a compelling exploration of the profound societal impact of safe spaces, inviting viewers to engage with the struggles and triumphs of marginalized communities.
The exhibition at the Pakistan Art Forum Gallery is a testament to Farooq's artistic vision and his ability to capture the essence of contemporary issues in a visually striking and emotionally resonant manner.
Hits: 6