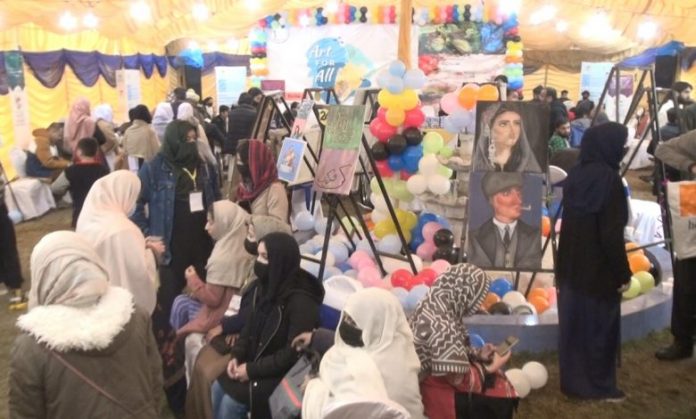 Shaheen Afridi
A painting exhibition depicting problems and challenges of persons with disabilities attracted large number of visitors at the Peshawar Paraplegic Center.
About 26 artists including artists with disabilities took part in the exhibition titled 'Art for All' and displayed their art. Most of the paintings highlighted the challenges faced by the persons with disabilities through their creative thinking.
Peshawar Paraplegic Center is the only institution in the country which is treating persons with disabilities.
Fatima Noor, a resident of Nowshera, who was disabled due to the back surgery in childhood and is now wheelchair bound. However, she said that disability was not hindrance in her life.
She is currently an intermediate student and also learnt to paint. She said that persons with disabilities were regarded as burden in the Pashtun society. Noor has tried to highlight this attitude in her paintings.
On the other hand, psychologists said that many of the persons with disabilities suffered from mental problems. Besides, they said that negative social attitudes, lack of facilities and aimless life inside a four walls of a house burdened with many worries.
Another artist who also participated in the exhibition said that like able-bodied persons, persons with disabilities are also talented. He said that if society accepts their ability, then, they could contribute as normal citizen. This artist has also tried to portray the same in his paintings.
Persons with disabilities in Pakistan
World Health Organization (WHO) figures show that there 12 to 15 percent persons with disabilities were in Pakistan. Number of those rendered disabled due traffic accidents and polio rank second after terrorism.
Asifuallah Khan was rendered disabled due to an accident. He said that persons with disabilities were also part of this society. Asif hoped that their rights will also be discussed in such gatherings.
However, he said that government has paid little attention to the rights of persons with disabilities. Besides, he said that persons with disabilities were facing issues of access in educational institutions, hospital and other places. "Due to this many of us even do not want to come out of our homes," he said.
Hits: 19