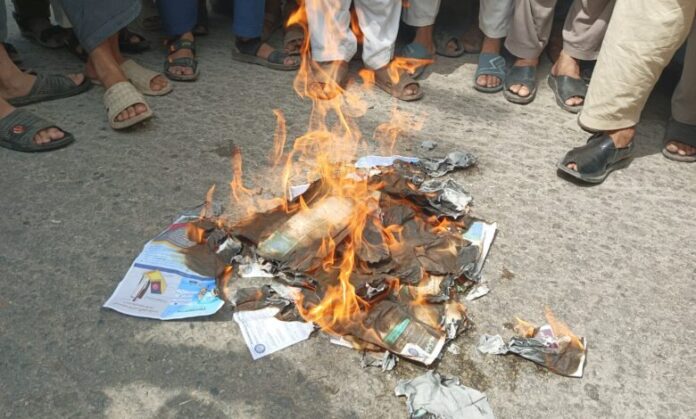 Peshawar's Ganj Gate area witnessed a fervent demonstration as hundreds of local citizens and business owners took to the streets to voice their strong opposition to the steep rise in electricity bills and excessive taxes. Amid the protest rally, slogans against WAPDA (PESCO) and the government echoed through the air.
During the protest, many participants resorted to burning their electricity bills as a symbol of protest. Traders and citizens alike expressed their grievances, highlighting the challenging economic conditions in the country, compounded by WAPDA's decision to impose substantial increases in electricity charges, burdening people further.
The protesters emphasized that the current circumstances have left people financially strained, making it exceedingly difficult for them to afford the substantial hikes in electricity bills and the burden of high taxes. As such, they demanded an immediate reversal of these increases, urging the government to consider the hardships faced by the public.
Also Read: AWKUM Extends Helping Hand to Afghan Female Students with 50 Full Scholarships
In an impassioned plea, the protesters implored the government to reconsider the recent escalations in electricity bills and taxes, underscoring that many citizens are grappling with financial constraints, with some even resorting to selling their household belongings to meet these payments. They urged the government to show compassion and address the pressing issue.
Notably, demonstrations against the steep electricity bill increases and taxes occurred in various places, including Khattak Bridge and Jameel Chowk in Peshawar the previous day. Protesters in these locations also resorted to burning their electricity bills as a form of protest.
Caretaker Prime Minister Takes Note of Escalating Issue
In a significant development, Caretaker Prime Minister Anwar ul Haq Kakar expressed concern over the matter of exorbitant electricity bills. The public's mounting frustration over soaring bills prompted widespread protests across several cities in the country.
Demonstrations were staged yesterday in various cities, such as Rawalpindi, Multan, Gujranwala, Peshawar, and Karachi, attracting a substantial number of participants who burned their bills and staged sit-ins as a form of protest. This marked the second day of nationwide protests against the exorbitant electricity bills.
In response, the Prime Minister's Office issued a statement through its social media channels, announcing that Caretaker Prime Minister Anwar ul Haq Kakar had convened an emergency meeting at the Prime Minister's House. The meeting aimed to address the pressing issue of inflated electricity bills.
During the meeting, a comprehensive briefing will be sought from the concerned Ministry and distribution companies. Additionally, consumers' perspectives will be taken into consideration to explore avenues for providing maximum relief related to electricity bills.
Hits: 79