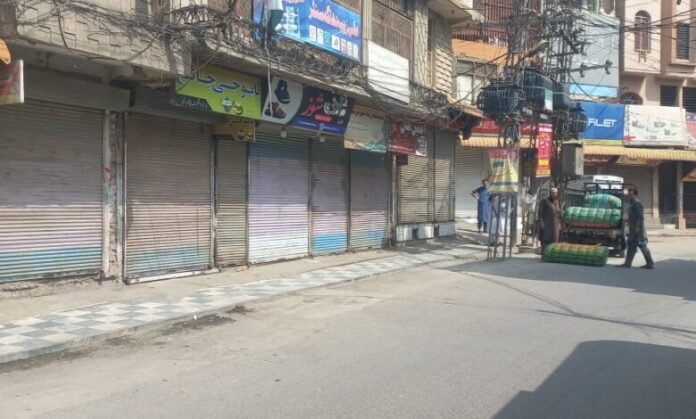 Muhammad Salman
Responding to the call by the All Pakistan Traders' Association, the Khyber Pakhtunkhwa Traders Association has initiated a citywide strike against the steep escalation in electricity bills, petroleum prices, and daily essentials in Peshawar.
In light of this, both small and large markets and bazaars will remain closed for the day across Peshawar. This includes Qisa Khawani Bazar, Meena Bazar, Kochi Bazar, Ashraf Road, Dalgiran Bazar, Kohati Gate, People Mandi Jahangir Pura Road, Chowk Yadgar, University Road, and Sadar Cantt.
The epicenter of the protest in Peshawar city is located near the Cloth Market Chowk Yadgar, where the presidents and general secretaries of various markets, including Khyber Pakhtunkhwa Merchants Organization's President Malik Mehr Elahi, have convened.
Also Read: CTD Thwarts Peshawar Terror Plot, Eliminates 2 Perpetrators
Malik Mehr Elahi, the president of the Traders' Association Khyber Pakhtunkhwa, informed TNN that the movement that commenced on August 5 against the surging electricity bills, rising fuel costs, and inflation-driven price hikes for daily essentials is gaining momentum. On August 29, the province witnessed its most significant protest gathering in history at Qisa Khwani. As a continuation, today, on August 31, the province-wide shutdown is in effect following the call from the central traders' organization.
He stressed that it is implausible for the government to assume that the people can bear the burden of such heavy bills. He emphasized that the government must provide relief to its citizens. He underscored that in the face of escalating inflation and unemployment, the general population lacks the financial means to sustain their households. Consequently, the excessive electricity bills and soaring taxes are beyond their capacity.
Elahi emphasized that the traders' association in Khyber Pakhtunkhwa stands in solidarity with the struggling populace and will continue to voice their protest against this hardship until the government implements measures to alleviate it.
Looking ahead, he revealed the forthcoming action plan includes a nationwide three-day comprehensive strike, strategic sit-ins at prominent squares, and the closure of pivotal highways.
Hits: 16