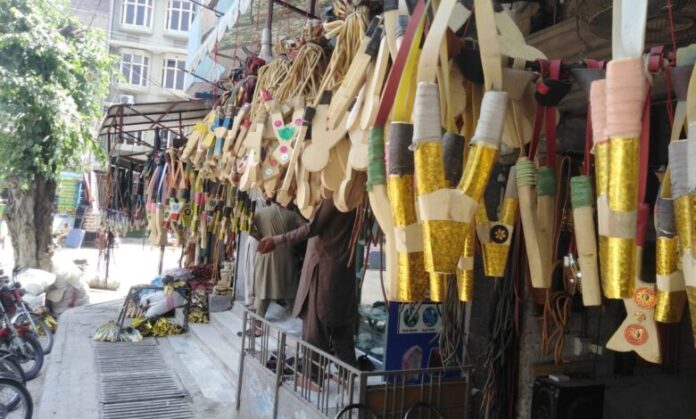 Haroon ur Rasheed
The continuous wave of violent protests, riots, and arson incidents in Pakistan has unexpectedly impacted the ancient and traditional business of slingshots.
The only slingshot market in Peshawar, the capital of the province, has been forced to shut down after these popular toys-turned-weapons were misused by enraged protesters. Shopkeepers in the market now face increased anxiety due to strict police surveillance and the uncertain future of their trade.
Slingshot Market, located in the Namak Mandi area of Peshawar, has been a hub for slingshot commerce for several centuries. Naimatullah, the market's president and a prominent businessman in the industry, explained that this market, situated in Namak Mandi Shah Qubol, is approximately 70 years old.
Also Read: Terrorist Attack in North Waziristan Leaves Three Suspects Dead
The trade and craftsmanship of slingshots, he furthered, have been passed down through generations, making it a profitable business to this day. It is the sole market in the country dedicated to wholesale slingshot trading, boasting around a dozen shops. In contrast, other cities usually have just a few shops or general store owners with limited stock.
A dozen slingshots can be priced anywhere between Rs. 70 to Rs. 1200. The manufacturing process primarily requires wooden handles, leather, and rubber, with many of the slingshot frames being made by women workers who operate from their homes.
Slingshot products from this market are not only distributed within Khyber Pakhtunkhwa but are also exported to Punjab, Sindh, Balochistan, and even Afghanistan.
The Use of Slingshots in Protests
Slingshots have become a common tool for angry protesters during long marches, sit-ins, and clashes with law enforcement agencies involving tear gas and baton charges.
An anonymous shopkeeper revealed that during the violent protests on May 9 and 10, approximately sixty slingshots were sold from their market alone. Furthermore, a local political leader from Peshawar purchased three sacks of the toy for an upcoming protest sit-in in Islamabad, scheduled for May 25 and organized by a political party.
Following the incidents on May 9 and 10, when slingshots were used by a violent mob, the police temporarily closed down the market for two days to prevent further sales. This closure not only affected the business of the shopkeepers but also resulted in financial losses.
It is worth noting that slingshots, unlike lethal weapons, are easily accessible in the market and do not require formal legal documentation. Some individuals use crystal pebbles or stones as ammunition in these slingshots.
Are Shopkeepers Responsible?
Another shopkeeper, Saeed Khan, explained that his business primarily operates during the first five months of the year when wheat crops are ready for harvest. Farmers often use slingshots to scare away sparrows and protect their crops. Additionally, children purchase slingshots as toys for recreational shooting.
For Saeed Khan and others like him, the slingshot business is their sole means of livelihood. If their businesses are unjustly closed, their households will suffer severe financial hardships.
They emphasize that all customers who come to their market purchase slingshot as customers, and they have never encouraged anyone to misuse these toys-turned-weapons. While slingshots may not be deadly, their utilization in protests is strongly condemned. Shopkeepers should not be held responsible for the misuse of slingshots by individuals, they argued.
The Ancient Tradition of Slingshot
The use of slingshots in various forms has a long history in many countries around the world, but it has particularly thrived in India and Pakistan. The official Slingshot industry dates back to 1847 when Charles Goodyear patented the design in 1839.
By the 1860s, slingshots had become a popular weapon for children's mischief and entertainment. The commercial production of slingshots began in 1918, marking a significant milestone in their widespread availability. In 1948, the Wham-O Company introduced the Wham-O slingshot, further popularizing the weapon.
During this time, the National Slingshot Association was established in San Marino, California, leading to the formation of several clubs and regular shooting competitions.
Slingshots are known by different names in different countries. In the UK, they are called "catapults," while in the US, they are referred to as "peashooters," and in South Africa, they are known as "ketties."
In fact, slingshots have more than 75 different names worldwide, reflecting their cultural significance and diverse usage throughout history.
Hits: 11