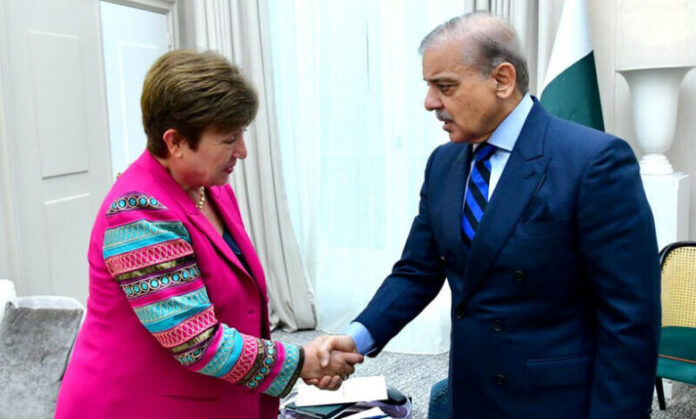 Prime Minister Shehbaz Sharif held a meeting with the Managing Director of the International Monetary Fund (IMF), Kristalina Georgieva, during the global financial agreement summit in France.
In a statement issued by the Prime Minister's Office, the discussions revolved around the ongoing programs and cooperation between Pakistan and the IMF.
Referring to their recent telephonic conversation on May 27, 2023, the Prime Minister briefed Kristalina Georgieva on Pakistan's economic outlook.
Also Read: Empowering Daughters: Breaking the Cycle of Mistakes
He highlighted the government's measures for economic growth and stability, emphasizing that all prerequisites for the ninth review under the Extended Fund Facility (EFF) have been fulfilled. The Government of Pakistan remains committed to honoring its commitments to the IMF.
Shahbaz Sharif expressed hope that the funds allocated under the IMF's EFF would be released expeditiously, as this would bolster Pakistan's ongoing efforts to stabilize the economy and provide relief to the people.
The IMF Managing Director provided an overview of the institution's perspective on the ongoing review process, and the meeting served as a valuable opportunity to assess progress in this regard.
The meeting was attended by Federal Minister for Climate Change Sherry Rehman, Federal Minister for Economic Affairs Ayaz Sadiq, Federal Minister for Information and Broadcasting Maryam Aurangzeb, Minister of State for Finance Ayesha Ghous Pasha, Special Assistant to the Prime Minister Tariq Fatemi, and Ambassador of Pakistan to France Asim Iftikhar Ahmed.
Hits: 20