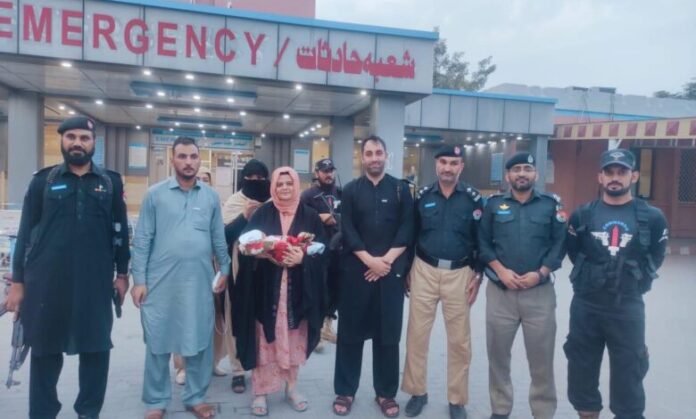 Abdul Sattar
In a heart-wrenching incident, a newborn baby who was kidnapped from the Mardan Medical Complex Hospital has been successfully rescued by the police, leading to the apprehension of two suspects, including a woman.
The incident came to light when Fazal Rehman, son of Fazal Mehmood and resident of Gul Bagh Mardan, filed a report at the Sheikh Multoon Police Station. According to the report, his wife, Shakeela, had been admitted to the Gynecology Ward of Mardan Medical Complex Hospital. After a normal delivery, their newborn child was handed over to the mother-in-law, Nooha Bibi, due to Shakeela's high blood pressure condition.
The situation took a horrifying turn when an unidentified woman approached Nooha Bibi, instructing her to leave the baby with her and attend to Shakeela. Trusting the stranger, Nooha Bibi handed over the baby. However, upon her return, both the woman and the child had vanished. A frantic search throughout the hospital premises yielded no results, revealing that the newborn had been kidnapped by the unknown woman.
Also Read: Unlocking the Mind: Understanding Kleptomania
Promptly responding to the child abduction report, the Sheikh Maltoon Police Station initiated an investigation, obtaining crucial clues from the hospital's CCTV camera footage. Acknowledging the gravity of the situation, Assistant Superintendent of Police (ASP) Resham Jahangir took charge. District Police Officer (DPO) Najibur Rahman Bhagvi formed a specialized team, headed by ASP Sheikh Multoon Circle Resham Jahangir and Senior Sub-Inspector of Police (SSHO) Sheikh Multoon Bakhtzada Khan, tasked with safely recovering the child and apprehending the culprits.
Under the meticulous supervision of ASP Resham Jahangir, the abducted newborn was located late at night in the Charguli area of Tehsil Rustam. In a swift operation, the police managed to apprehend two suspects, one of whom was the woman responsible for the kidnapping. Investigations revealed that the accused woman, who was childless, had resorted to abducting the newborn out of desperation.
ASP Sheikh Multoon ensured the safe return of the baby to its mother and grandmother. Addressing the incident, the spokesperson of Mardan Medical Complex Hospital issued a statement, asserting that CCTV footage confirmed the hospital staff's diligence and ruled out any negligence on their part. The footage depicted that Nooha Bibi had voluntarily handed the child to the abductor. Once the child was in her possession, the kidnapper vanished, leaving the family distraught.
Hits: 9