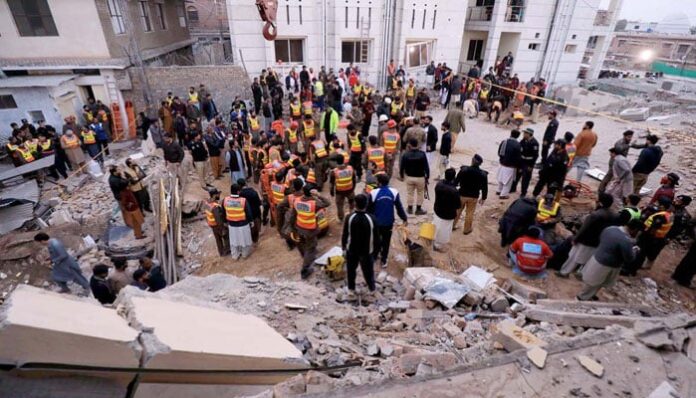 Rifaqatullah Razarwal
In the past ten months, Khyber Pakhtunkhwa has witnessed a grim toll on its law enforcement, with over 150 police personnel losing their lives and more than 400 sustaining injuries in terrorist incidents across the province. Security analysts attribute the vulnerability of the police force to its frontline role, compounded by the heightened organizational strength of armed groups post the Taliban regime in Afghanistan.
Comparative reports indicate a surge in terrorist activities this year compared to the previous one. Statistics reveal that during the initial ten months of last year, 105 civilians and 109 police personnel were injured. Journalist Safiullah, based in Peshawar, shared data from the police department, disclosing that from January to November 12 this year, over 400 personnel, including 150 police officers, have suffered injuries and disabilities province-wide.
Highlighting the severity of terrorist attacks, Safiullah noted a significant assault on the Peshawar police line resulting in the martyrdom of 86 officers. Other incidents claimed the lives of two DSPs, eight sub-inspectors, and several Havaldars and Constables. The Tehreek-e-Taliban, an armed group, consistently claims responsibility for attacks on the police and other security forces. Recent data from Tehreek-e-Taliban Pakistan disclosed 83 attacks in Pakistan last month (October), with 74 targeting Khyber Pakhtunkhwa.
Also Read: Power Outage Crisis: Main Transmission Tower Collapses in Khyber's Landi Kotal
Offering insights, defense affairs expert and former police officer Additional Inspector General (R) of Police Syed Akhtar Ali Shah emphasized the police's role as a frontline counter-terrorism force, stressing the urgent need for enhanced resources, intelligence, and system improvements. He pointed out that since the Afghan Taliban assumed control in Afghanistan, terrorist activities against security forces, particularly in Khyber Pakhtunkhwa, have escalated. Shah attributed this rise to the conclusion of the Afghan Taliban's conflict with the United States and Pakistan's negotiations with the TTP.
Shah identified three key factors contributing to the police's vulnerability. Firstly, the ubiquitous presence of police officers in public spaces makes them easily accessible targets during sudden attacks. Secondly, inadequate information and intelligence pose significant challenges, and thirdly, the shifting geopolitical landscape has intensified the security environment, necessitating comprehensive reforms and resources to bolster the police's counter-terrorism capabilities.
Syed Akhtar Ali Shah emphasizes the need for a comprehensive overhaul of policing strategies, citing outdated frameworks like the 1861 Police Act and the 1934 Police Rules. He acknowledges the police force's efforts to refine tactics, especially post-9/11, but underscores the vital role of an improved investigation system in ensuring effective criminal prosecution.
Addressing concerns about reduced police manpower, Shah dismisses it as a primary issue, advocating for a focus on enhancing quality rather than quantity. He stresses the critical importance of intelligence and investigation system improvements for achieving meaningful progress.
Tehreek-e-Taliban Pakistan's recent data claim of 97 security force casualties and 114 injuries, along with two officials' arrests, aligns with security experts' observations of an increased terrorist threat. Islamabad-based journalist Tahir Khan emphasizes the need for in-depth research and investigation into the root causes of terrorism, calling for a systemic overhaul to address vulnerabilities exploited by opposing forces.
Khan cites a specific incident, the January 30 suicide attack at the Peshawar police line, highlighting systemic weaknesses in monitoring and response. He contends that these weaknesses create opportunities for adversaries to exploit, emphasizing the importance of holding negligent parties accountable and implementing systemic improvements.
While dismissing the notion that the evacuation of Afghan refugees has led to an uptick in terrorism, Khan points to irresponsible statements from both sides as contributing to mutual mistrust. He criticizes inflammatory statements from Afghan and Pakistani leaders, cautioning that such rhetoric could hinder efforts to address challenges like the Tehreek-e-Taliban Pakistan (TTP).
Tensions between Pakistan and Afghanistan have escalated, with conflicting statements from leaders on both sides. The Afghan Taliban's defense minister and Deputy Foreign Minister expressed dissatisfaction with Pakistan's treatment of Afghans, while Pakistan's Prime Minister alleged a significant increase in terrorist attacks post the Taliban government's ascent. Journalist Tahir Khan warns that such statements may exacerbate bilateral tensions and impede collaborative efforts to address issues like the TTP.