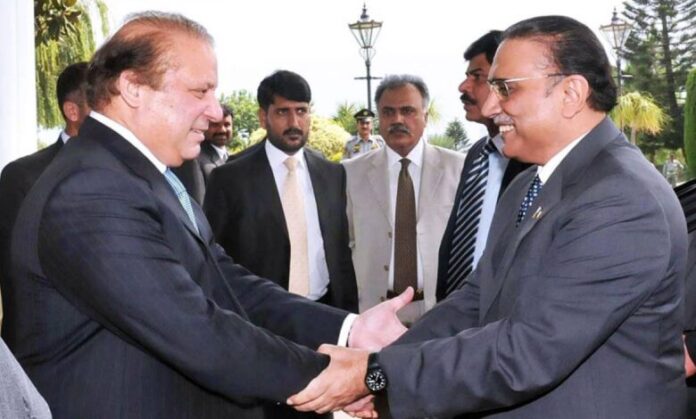 Muhammad Faheem
The onset of monsoon rains brings pleasant weather to various parts of Pakistan, but it's the political climate that is intensifying as time passes.
On the occasion of Eid-ul-Azha, former Prime Minister Mian Muhammad Nawaz Sharif left the comfortable atmosphere of London and immersed himself in the scorching heat of Dubai, even in the heat of June.
Similarly, former President Asif Ali Zardari has also chosen to escape the monsoon rains of Pakistan and seek refuge in the blistering heat of Dubai. However, it's not the current weather that truly matters; it's the climate that will unfold in November. There is a possibility of general elections being held in November, which is prompting Nawaz Sharif and Asif Ali Zardari to strategize and secure their positions.
Also Read: Lack of Health Care Commission: Illegal Clinics and Unqualified Doctors Flourish in Bajaur
Sources reveal that behind closed doors, the Pakistan People's Party (PPP) has demanded that the Pakistan Muslim League (PML-N) refrain from fielding candidates in 32 seats in Punjab. Additionally, due to the ongoing census, the number of seats in the National Assembly from Punjab is expected to be reduced to 135. This poses a challenge for the PPP to secure their desired number of seats.
Noted journalist and anchorperson Zahid Mirokhel argues that decisions made from outside Pakistan hold no weight. While it may be easy to sit in Dubai and devise plans on paper, it is not a true reflection of the ground realities in Pakistan. Mian Nawaz Sharif is determined not to lose his grip on Punjab, but both the PPP and PML-N seem to be disregarding the Pakistan Tehreek-e-Insaf (PTI) in this political game. The Stability Pakistan Party has been successful in luring away PTI leaders, but has it managed to sway PTI voters? It is premature to make such a claim at this stage.
In Khyber Pakhtunkhwa, a power struggle is unfolding between the Jamiat Ulema Islam (JUI) and the Awami National Party (ANP), while the PPP and PML-N have forged an alliance in the province. Consequently, a fierce battle for power is underway between the ANP and JUI.
Recently, Amil Wali Khan, in an interview with a private online media platform, called for the resignation of the Governor of Khyber Pakhtunkhwa, leading to a strong reaction from the JUI. This indicates that relations between the two parties are not progressing in the right direction.
Dr. Sumaira Gul, Head of the Political Science Department at Benazir Bhutto Women University Peshawar, weighs in on seat adjustments, stating that such decisions have never been widely accepted by voters. While the situation may somewhat resolve itself in Punjab, it is highly unlikely to find success in Khyber Pakhtunkhwa.
Dr. Gul explains that the political consciousness and voting behavior of voters in Khyber Pakhtunkhwa differ. Here, voters either support their party's candidate or abstain from voting altogether. The past experience of the Pakistan Democratic Movement (PDM) alliance serves as evidence that these decisions made behind closed doors are ineffective on polling day. One party emerged victorious, signifying that seat adjustments, at least in Khyber Pakhtunkhwa, are unlikely to materialize.
Considering the anticipated seat adjustment between the JUI and ANP, Gul emphasizes that it is improbable due to the parties' public criticism of each other. However, in areas where both parties lack strength, there might be some seat adjustments. Nevertheless, it is likely that a third party would benefit the most from such adjustments.
Hits: 2