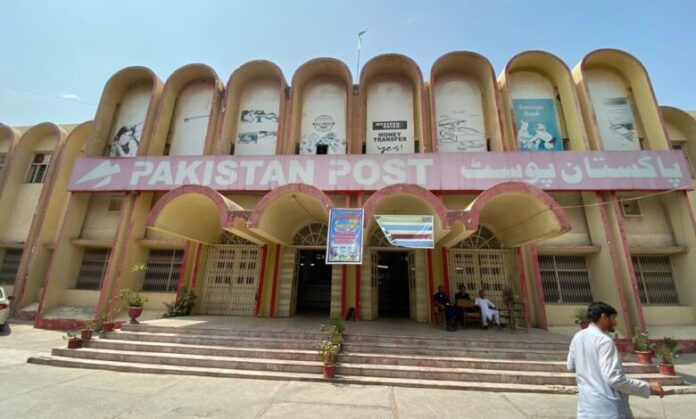 Zeeshan Kakakhel
Pakistan Post Office Peshawar has raised the rates for sending mail and parcels, causing difficulties for people attempting to send correspondence or packages to various organizations or foreign nations, particularly for employment purposes.
Afnan Khan, a student at the General Post Office (GPO) Peshawar, expressed his frustration, stating that he frequently sends applications and documents through Pakistan Post Office to both government and non-government entities.
He recently discovered that the shipping charges have been increased by as much as Rs. 50. For an unemployed student like him, a hike of up to Rs. 50 in mailing costs is significant, especially since he has sent numerous job applications in recent months.
Also Read: Alleged Custodial Death Sparks Outrage in Peshawar
Hazrat Khan, another citizen, shared his predicament. He has a sister living in France and traditionally sends her clothes and other items on occasions like Eid. However, due to the prevailing inflation in the country and the increased cost of sending parcels, even sending a simple letter to his sister has become challenging.
Sources indicate that the Post Office Department has introduced price hikes ranging from 10 to 60 percent for sending mail and parcels within the country and abroad. Under the new rates established by the Department of Post Office, the cost of sending parcels to New Zealand has surged by 60%. Previously, the fee for sending a one-kilogram parcel to New Zealand was set at Rs. 4,060, but it has now been increased to Rs. 6,500, marking a significant increase of Rs. 2,240.
Similarly, sending parcels to other countries has also become more expensive, with charges to France increasing by Rs. 230, Germany by Rs. 370, Indonesia by Rs. 60, Turkey by Rs. 530, and Korea by Rs. 220.
In contrast, Senior Postmaster Inamullah at Peshawar GPO explained that the decision to raise postage and parcel rates was influenced by the current state of inflation. The expenses of the post office have also risen due to the overall economic conditions. This increase in rates is expected to help the Post Office Department save up to Rs. 1.5 million per month, potentially alleviating some of the financial pressures.
Hits: 3