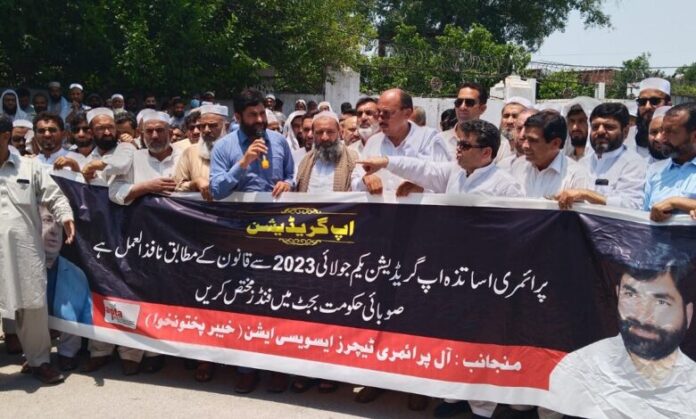 Peshawar: The Primary Teachers Association Khyber Pakhtunkhwa (APTA) staged a protest to advocate for their demands and urged the caretaker provincial government to approve the upgradation for all cases.
Led by Azizullah Khan, the protest took place outside the Peshawar Press Club on Monday and saw a significant number of teachers participating.
The protestors emphasized that since the caretaker provincial government of Khyber Pakhtunkhwa is set to present the budget the following day, their protest aimed to remind the government to allocate funds for their upgradation in the provincial budget. They emphasized the importance of fulfilling the promises made regarding their upgradation.
Also Read: MNA Ali Wazir Arrested Again in South Waziristan
Fazal Muhammad Mashal, a headmaster of a public school who participated in the protest, stated that the previous government had assured primary school teachers that they would be upgraded from July 1. The teachers have made significant sacrifices in their profession.
He further explained that previously, primary school teachers used to retire in the same grade they were initially recruited. However, with this upgradation, they would also be promoted, and they would receive additional benefits even after retirement. He advocated for primary school headmasters to be given the 16th scale and teachers to be given the 15th scale.
Fazal Muhammad Mashal emphasized that hundreds of thousands of teachers across the province, including female teachers, are demanding the upgradation. If their demands are not met, hundreds of thousands of teachers will be compelled to protest in the red zone.
Hits: 18