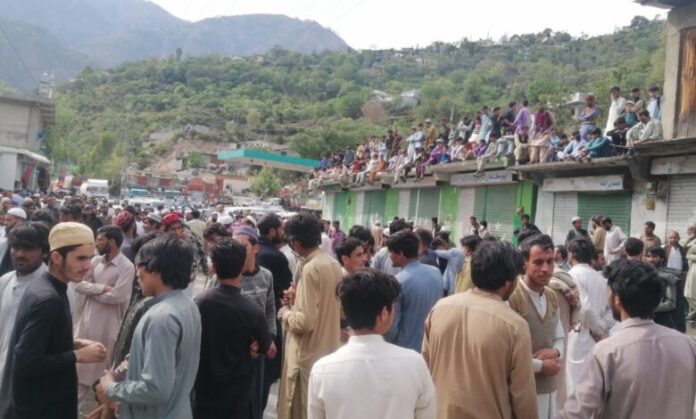 A peaceful protest in Shangla, on Thursday, against the "unjust" distribution of free flour turned violent when citizens' alleged attempt to loot flour trucks resulted in a clash with the police leaving a police official and several others injured.
The police arrested four people including the chairperson of the local village council.
Fazal Elhi, SHO of Dandai police station, said the residents of the Maira, an area in Tehsil Bisham of Shangla district, led by the local village council's chairperson Shah Zeenat Khan blocked the Karakoram highway and staged a protest against the distribution of free flour.
The protesters, demanding more points of free flour in Maira, tried to loot trucks full of government flour that were heading towards Bisham, he added.
Also Read: Fact-Check: No woman in Khyber district deprived of Free Flour
He said when the police party, present at the protest, tried to stop the protesters, the latter started pelting stones at them, injuring a police constable, Akbar Hussain.
As per the official, some of the protesters were armed and were arrested, and an FIR was registered by the police against them for damaging police vehicles and injuring officials.
However, Shah Zeenat Khan, Maira Village Council's Chairperson, said that they were demonstrating peacefully when the police lathi-charged them. "We were just asking for more free flour points," he added.
Jawad Ahmad, the Assistant Commissioner Bisham, however, said that the protestors tried to rob the truck of free flour and pelted stones at the police. He said more points will be set up on the demand of the citizens after successful negotiations with the protesters.
He said the trucks, the protesters tried to loot, have been safely delivered to the police station.
The government has launched a flour distribution program, for families in need during Ramazan, across the country.
The caretaker government of Khyber Pakhtunkhwa has instructed all the administrative secretaries across the province to monitor the distribution of free flour and to ensure the sale of food items at official rates.
However, people waiting for free flour looted truckloads of flour in Peshawar and Dera Ismail Khan on Monday, whereas residents took to the streets to protest the unavailability of the commodity in Lakki Marwat, Bannu, Khyber, and Abbottabad.
In Punjab, two people died while 56 people, including 45 women, were injured in stampedes at free flour centers on Tuesday, "Dawn" reports.
Hits: 15