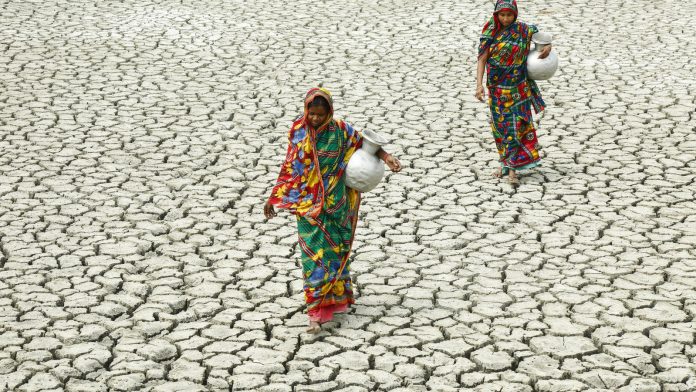 After finishing my household chores hurriedly, I head towards the mountains with the first ray of the sun so that I can cut grass to feed the cattle.
As the sun's rays intensify, the heat increases, so my work becomes more difficult.
These are the views of 40-year-old Faiza, who, like thousands of women living in the villages, has to collect fodder from the mountains for other household responsibilities.
Faiza says that earlier the rains used to be on time, while there was also sufficient grass in the fields. Now due to climate change, the rains are unseasonal and increased, which damages the crop. The animals need fodder for which I have to go a long way. I get very tired by mowing the grass, my hands get injured, I have pain in my body all the time and sometimes I feel difficulty in breathing, but work doesn't see these things.
Women affected by climate change
Like Faiza, other women also wake up before sunrise. All household chores such as cooking, cleaning, working in the fields, fetching water from springs and wells from difficult remote areas, arranging fodder for cattle and bringing wood from difficult terrain is also a part of their responsibilities.
But climate change is gravely affecting their lives psychologically, physically and emotionally, most of the victims are women working in the fields and bringing wood from the mountains and fetching water from far away.
Women and rural traditions
I contacted environmental journalist Aafia Salam to understand the impact of climate change on women in depth.
She believes that climate change is affecting all aspects of life. Climate change is adding to the difficulties of women stuck in the societal chains.
Aafia said that when the heat is high in rural areas, instead of men, women bring water, they also work in the fields. In the harsh winter, due to fog and smoke respiratory diseases spread, which affect these women severely. Due to poverty, women are also suffering from malnutrition. On the other hand, they also have to deal with natural disasters.
The steps being taken at the national level to protect women from the effects of climate change are insufficient. Many steps are necessary in this regard, such as training women according to changing seasons, increasing their knowledge of resource usage, ensure their involvement in policy making and decisions, policy making to eliminate gender discriminatory threats of climate change, and the gap between implementation needs to be bridged.
Women's health
Gynecologist Dr. Asma says that women in Pakistan's villages often suffer from physical weakness due to malnutrition. Malnutrition is a consequence of poverty as well as drought. The rate of miscarriages in women is also snowballing, the main reason for this is growing global warming i.e. increase in the intensity of heat and hard work in the cold weather. On the one hand, due to poverty, they do not get healthy food, on the other hand, they do more weight-lifting work.
Similarly, rising poverty due to climate change affects the health of pregnant women.
According to Dr. Asma, precaution is important during pregnancy and tasks such as carrying water on the head, working in the field, fetching firewood from the mountains should be avoided.
Is there any emergency relief plan in Pakistan to support women during natural disasters?
_________________________________________
Shumaila Afridi has done Masters in International Relations. Being a social activist and citizen journalist, she writes blogs on various topics.
Hits: 44