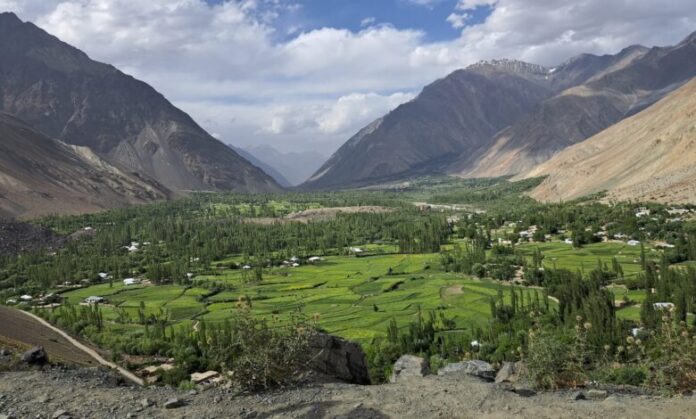 Nasar Zada
Located on the border with Gilgit-Baltistan via Sor Laspur Shandur, the picturesque region of Upper Chitral in Khyber Pakhtunkhwa is considered the last village of the province.
Sor Laspur, situated six hours away from Chitral City and two hours from Mastuj, offers a stunning landscape of lush fields, gardens, clear water springs, rivers, and towering mountains that captivate visitors from afar. It serves as a crucial stopover for tourists heading to Shandur due to its scenic beauty.
Akbar Hussain, a resident of Laspur, emphasizes the tourism potential of Sor Laspur, highlighting the presence of 16 small and large glaciers in the area. Additionally, three renowned passes are connecting different destinations. One pass leads to Kumrat, another to Swat Kalam, and the third passes through Shandur, providing access to Gilgit.
Also Read: Security Measures Implemented for Muharram in Province
Hussain further mentions ongoing road construction from Booni to Laspur, stating that its timely completion would further enhance the influx of tourists. Sor Laspur is ideal for winter sports and attracts visitors even in July, thanks to its cool climate.
To facilitate tourists, the Khyber Pakhtunkhwa Tourism Department has constructed camping pods along the road in green fields. These pods offer various amenities and provide a comfortable stay for tourists and their families.
Saad Khan, spokesperson for the Tourism Department, informs that tourists can book the camping pods at affordable rates. Detailed information and online booking are available on the tourism website. The pods feature two-bed and four-bed options with toilet and kitchen facilities. Visitors can explore the surrounding areas, enjoy leisurely walks, and immerse themselves in the breathtaking views.
Visitors share their experiences, expressing their fascination with Sor Laspur's unparalleled beauty. The pleasant weather, coupled with the lush green environment, provides a refreshing escape. They express hope that the government will prioritize road construction and further develop facilities in the area to transform Sor Laspur into a prominent tourist destination.
In conclusion, Sor Laspur, with its natural splendor and tourism potential, stands as a hidden gem in Khyber Pakhtunkhwa. The ongoing efforts to improve infrastructure and the availability of camping pods offer a glimpse of the area's promising future in attracting more visitors seeking solace in its serene surroundings.
Hits: 15