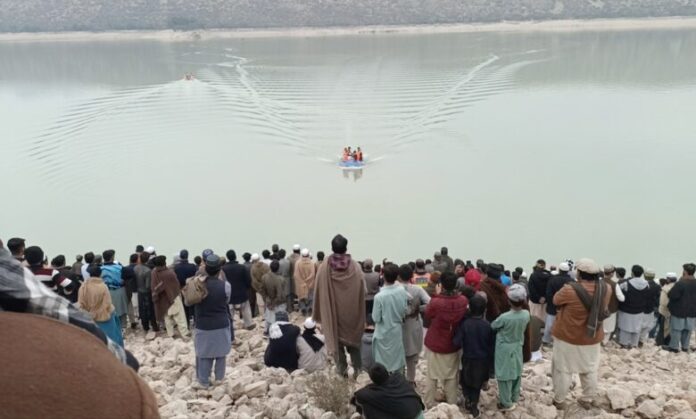 KOHAT: Death toll in Kohat's Tanda Dam boat capsizing incident has surged to 52 while rescue operation was still under way.
Earlier on Sunday, a boat carrying students of a local religious seminary had capsized in the Kohat's Tanda Dam. At least 11 bodies were recovered on the day of the incident.
In addition to this, authorities had initially claimed that 25 to 30 students were onboard the capsized boat.
However, recovery of more bodies showed that the initial claims were not correct and situation was not yet clear. Reports attributed to the religious seminary say that there were 57 to 62 students in the boat. Ongoing recoveries of bodies from the dam's lake also strengthen the theory that there were more students onboard than initially claimed.
The number of bodies from frigid waters of the lake has surged to 52 on third day of mishap.
On the other hand, sources said that seven persons were rescued on Sunday while 52 bodies have been recovered in three days. Search was on for remaining three bodies so far.
Shahid Noor, the in charge of the Madrasa Mir Bash Khel, told reporters that 57 children had boarded the boat for picnic. He said that nine of his family members including his son, nephews and others perished in the boat tragedy.
On the other hand, Deputy Commissioner Kohat Furqan Ashraf said that frogmen of the Pakistan Army and Navy were taking part in the relief operations at the lake.
Kohat police, on the other hand, has said that it has registered a case against boat operator and the executive engineer of the irrigation department.
Earlier in 2019, another boat capsizing incident in the Tarbela dam near Haripur had resulted into deaths of 22 people including children and 18 of them were never recovered.
Hits: 17