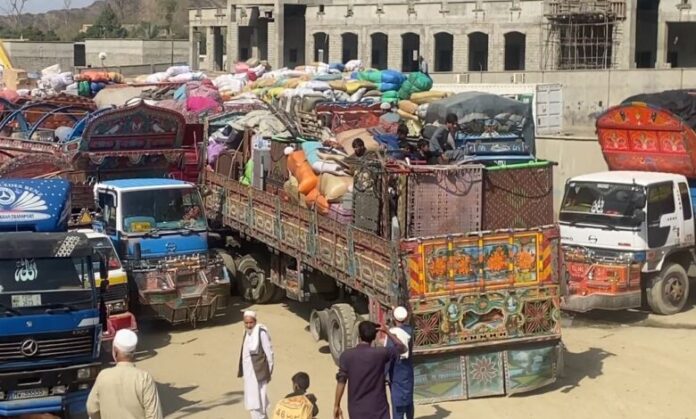 Shaheen Afridi
Temporary camps are under construction in various provinces across Pakistan, including Khyber Pakhtunkhwa, to accommodate the millions of Afghan refugees who face expulsion from the country by October 31.
Pakistan's Interior Minister, Sarfaraz Bugti, announced in early October that an estimated 1.7 million Afghans would be affected by this forced eviction.
To facilitate this process, special evacuation centers will be set up in Khyber Pakhtunkhwa, including Peshawar, Haripur, Nowshera, and Landi Kotal.
Deputy Commissioner of Peshawar, Muhammad Zubair Khan, clarified that these are temporary settlements, serving as a corridor for Afghan refugees returning to Afghanistan. They will temporarily stay in these camps before their repatriation.
Under this plan, district administration and law enforcement have been authorized to detain Afghan refugees found living in Pakistan without proper documentation.
Also Read: From Alimai to Mangupir: NU's Search for a Way Back Home
Deputy Commissioner Peshawar, Muhammad Zubair Khan, explained that security personnel in Khyber Pakhtunkhwa are actively identifying and registering new Afghan refugees. So far, approximately five thousand foreigners have been identified in our Peshawar division, with this process ongoing. Special teams at the police level are deployed to identify undocumented immigrants. Legitimate document holders and visa possessors are not subject to deportation.
The United Nations has voiced concerns over Pakistan's deportation plan for Afghan refugees. The Afghan Taliban has similarly called for a reconsideration of this "inhumane" and "unacceptable" deportation policy.
Consul General of Afghanistan, Hafiz Mohibullah, held a meeting with Khyber Pakhtunkhwa Governor Ghulam Ali in Peshawar, addressing the evacuation of Afghan refugees. Hafiz Mohibullah emphasized that this is a unilateral decision by the Pakistani government and proposed the formation of a committee involving both governments to repatriate Afghan refugees in a dignified manner.
Hafiz Muhibullah also expressed concerns about the practice of stopping and interrogating Afghans in markets and on roads or detaining them in jail, deeming it illegal. He discussed a plan with the Khyber Pakhtunkhwa government to establish committees jointly with the Islamic Emirate, classifying Afghan refugees and deporting those who are in the country illegally. He advocated for notifying illegal Afghan nationals in advance to enable them to prepare for their return.
Additionally, Hafiz Muhibullah mentioned the establishment of special camps near the Afghanistan border to offer emergency shelter, health services, food, and financial assistance to recently returned families from Pakistan.