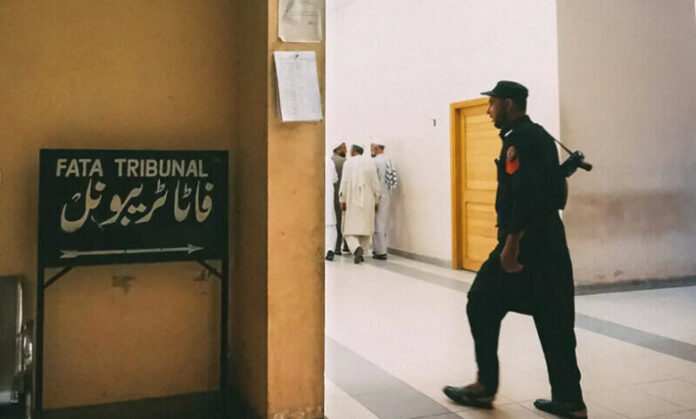 Muhammad Bilal yasir
The caretaker government of Khyber Pakhtunkhwa has reinstated the FATA Tribunal, a move that has been formalized through a declaration from the Home Department. This decision has prompted the Peshawar High Court to transfer several pending cases, including the case of Dr. Shakeel Afridi, back to the tribunal. The FATA Tribunal is set to preside over these specific cases over the course of the next three years.
As part of this announcement, senior bureaucrat Zakir Hussain Afridi has been appointed as the chairman of the tribunal, with Kifayatullah Khan and Khalilullah Khalil serving as its members.
An insider within the FATA Tribunal, speaking on condition of anonymity, revealed that in accordance with the court's order, the current FATA Tribunal will be responsible for hearing cases falling into four categories. Of these, the case of Shakeel Afridi holds significant prominence. The FATA Tribunal has been vested with the authority to review and make decisions on Dr. Shakeel Afridi's case. Furthermore, more than ten other cases have been transferred to the FATA Tribunal's jurisdiction.
Also Read: FIA Busts Forgery Scheme at Torkham Border
Shahabuddin Khan, a former member of the National Assembly from Bajaur, weighed in on the restoration of the FATA Tribunal. He clarified that the Interior Department's decision to reinstate the tribunal is aimed at addressing eleven cases that were already pending within the system. This restoration is valid for a three-year term during which these cases will be adjudicated upon and judgments will be delivered. However, Khan highlighted that it's improbable for the FATA Tribunal to be permanently reinstated to function on par with the Peshawar High Court, as this is constitutionally unfeasible.
According to Khan, while the 25th constitutional amendment led to the repeal of FCR 1901, cases pending under this law at that time will continue to be addressed under the previous procedure. New cases, on the other hand, will be dealt with in local courts under the new law.
Khan emphasized that tribal communities are not prepared to embrace an equal court system in any scenario. The extension of the judicial system to tribal districts has been implemented, and the tribal populace is experiencing its benefits.
It's important to note that prior to the merger of FATA, the FATA Tribunal used to handle cases from the former Tribal Areas governed by the FCR. Following the merger in 2018, the tribunal was disbanded; however, as of July 17, 2023, it has been reinstated once more.
Hits: 55