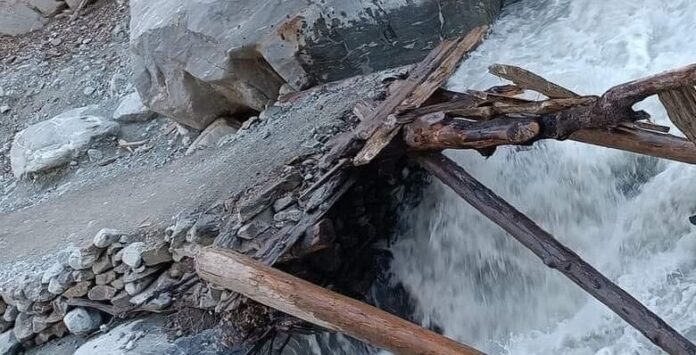 Peshawar: Three girls, including two sisters, have gone missing in the Kandia River in the Upper Kohistan district of Khyber Pakhtunkhwa. The unfortunate incident occurred as a result of the collapse of a bridge.
A spokesperson from Rescue 1122 stated that the three girls were crossing the bridge with a herd of animals when the bridge suddenly gave way, causing them to fall into the river.
Local resident Shahid Chaudhry informed TNN that the missing girls, identified as 13-year-old Laiba, 11-year-old Zahida (sisters), and their 12-year-old cousin Rubina, fell into the river after the bridge collapsed.
Also Read: KP's Artists Praise Government's Effort to Establish Gorkhatri Music Street
He mentioned that the girls were on their way back home from a nearby pasture when the tragic accident occurred due to the dilapidated state of the bridge.
Rescue 1122's spokesperson mentioned that rescue diving teams promptly arrived at the scene, but the operation faced challenges due to the swift water flow and the darkness of the night, hindering their efforts to retrieve the bodies.
Rescue sources have confirmed that a renewed search and rescue operation has been initiated on Friday to locate the missing girls.
Hits: 3