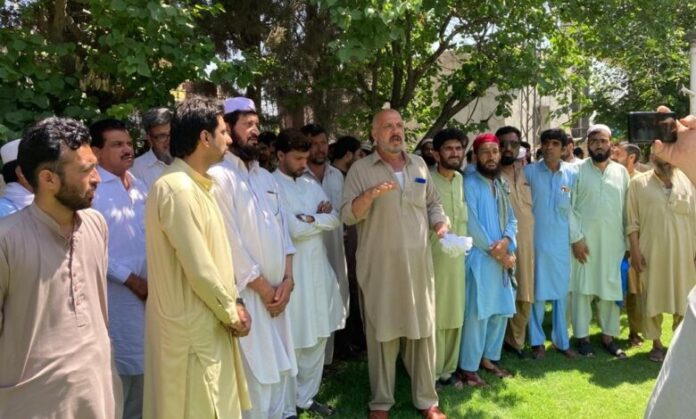 Basit Gillani
The Town Municipal Administration (TMA) in Kohat has faced backlash after dismissing 29 employees, including women, leading to an announcement of a strike by the employees' union.
Sakhi Badshah, President of the Employees' Union, expressed strong opposition to the decision, considering it an act of cruelty by the administration, adding that these employees had been serving in crucial roles within the TMA in Kohat for the past 15 years as fixed employees.
The employees have vowed to continue their strike until the decision is revoked, and they plan to approach the Labor Court to challenge the dismissal.
Also Read: Malakand: Tax System Implementation Sparks Concerns and Demands for Exemption Extension
On the other hand, Amin Gul, TMO Kohat, explained that in 2019, the then-provincial government of Pakistan Tehreek-e-Insaaf had decided to terminate fixed employees employed in various government departments across the province. This process has been initiated in different districts, including Kohat TMA.
According to him, the provincial government took this step due to financial constraints and the burden on the treasury. He clarified that the decision was not made on a personal level.
TMO Amin Gul mentioned that discussions are currently underway with City Mayor Qari Sher Zaman and the President of the Employees Union to find a solution. They are considering the possibility of employing these dismissed fixed employees on a daily wage basis.
These fixed employees had previously filed a petition in the High Court against the provincial government's decision. However, their writ was recently dismissed, leading to the TMA Kohat administration issuing a notification to terminate these employees, effective from this month. The affected employees include Naib Qasids, women in handicraft centers, lights branch staff, and other workers.
City Mayor Qari Sher Zaman assured that efforts will be made to find a suitable arrangement for the affected employees. He stated that consultations with the TMO are ongoing, and they are committed to placing these employees on daily wages if possible.
The retrenched fixed employees, Shahzad Mir, Yasir, Nasir, and others, expressed their discontent with the decision. They emphasized their long-standing dedication to their duties at TMA Kohat, earning a monthly salary of Rs. 21,000. They firmly reject the decision and vow to continue their protest until they are reinstated.
Hits: 1