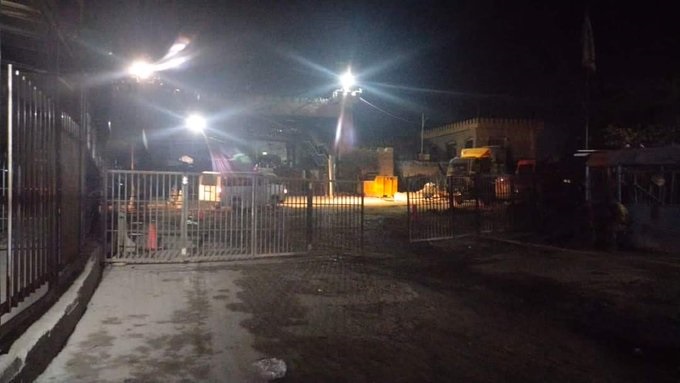 Afghan Taliban has closed the Torkham border crossing in protest against Pakistan refusal to allow attendants of the patients seeking treatment in the country.
Sources said that the Torkham border closure suspended both the vehicular and on foot travel between both countries. The closure has also led to long queues of loaded and unloaded vehicles on both sides of the border.
Official sources said that Pakistani authorities have issued direction against allowing attendants accompanying sick people, seeking treatment in the country.  Following this directions, Taliban stopped unaccompanied patients from entering Pakistan. Later, Taliban also approached Pakistani authorities to allow attendants with patients.  However, Pakistani authorities refused to accept this demand, following which Afghan Taliban authorities closed the border crossing on 8pm on Sunday night.
The sources said that a large number of travelers were stranded on both sides of the border. In addition to this, large numbers of vehicles were also stranded on both sides of the border. The suspension of transport and border crossing is causing issues for both the transporters and visitors. They stranded people are waiting on both sides of the border in anticipation of border opening.
It is worth mentioning here that due to certain issues Pakistani authorities are allowing limited number of vehicles carrying goods to enter Pakistan.
A large number of stranded vehicles could be seen parked on both sides of Pak-Afghan border from Torkham crossing till Ali Masjid area of Khyber Pass.
The closure of border crossing is likely to further exacerbate the problems faced by the transport.
Torkham border crossing is the main border crossing between Pakistan and Afghanistan, located at the end of historic Khyber Pass in Khyber district.
Pakistan and Taliban relations have soured over recent spate of attacks including last month Peshawar police line attack, which killed 84 people.
Hits: 29