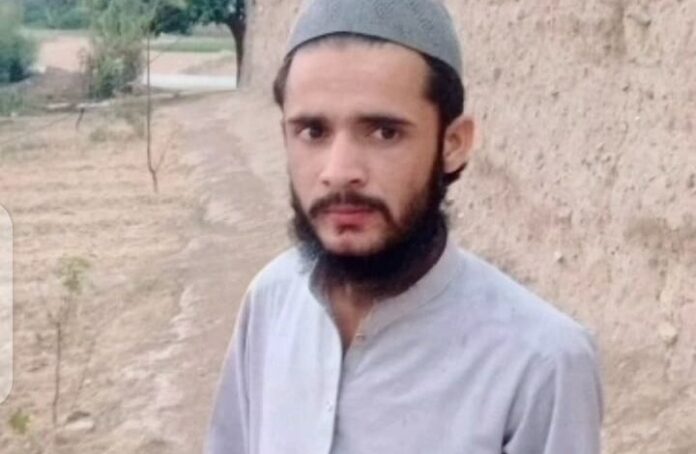 He sat in a chair, not far from the stage, attentively listening to the party leaders' speeches during the JUI workers' convention.
As the general secretary of JUI Tehsil Ambar entered the venue, Hafiz Hamza Khan, an ideological worker of JUI and the cousin of former Senator Hafiz Rasheed Ahmed, respectfully offered him the chair and moved closer to the stage. Little did he know that a devastating explosion would soon rip through the gathering, claiming his life. His sudden and tragic death has plunged the entire village into mourning.
Hafiz Hamza Khan, a 25-year-old son of Mubeen Khan from Qajeera village in Mohmand Tehsil Ambar, was among the 56 people who lost their lives in the suicide blast at the JUIF workers' convention on Sunday.
Also Read: Innocence Declared: Maulvi Nigar Alam's Case Resolved in Jirga
Reflecting on the past, his cousin Hafiz Habib Ahmed shared that in 2010, due to unrest in the Mohmand district, Hamza Khan's family, like many others, had to leave their ancestral home and migrate to the Charsadda district.
Both Hamza Khan and Hafiz Habib Ahmed studied together in a Madrasah in Charsadda. Hamza Khan was a diligent student, managing his regular school and college education alongside his studies at the Madrasah.
He completed his BS in Computer Science from Bacha Khan University last year and had recently finished his religious studies at Shaikh Mohammad Idris Madrasah Nomaneeya Charsadda. Hamza often expressed his passion for computer science and his aspirations to secure a good job to ease the financial struggles of his humble family.
Mubeen Khan, who sells watches in Charsadda Bazaar, is Hafiz Hamza Khan's father. He spoke with regret, saying that despite their displacement from home and financial difficulties, he provided his son with both Islamic and modern education. After completing his studies, Hamza Khan got engaged, and wedding preparations were underway. Mubeen Khan lamented that when things were starting to look up with Hamza working as a teacher in a private school in Tehsil Ambar, he was tragically martyred in the heartless and bloody incident.
The grief and sorrow of losing Hamza Khan are unbearable for the entire family. Mubeen Khan expressed, "We will never forget Hamza Khan," as they try to cope with this profound loss.
Hits: 258