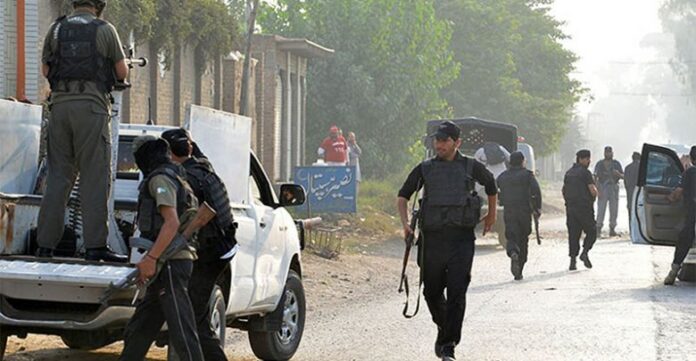 Police killed two militants in an intelligence based operation in Hund area of Swabi district on Wednesday while another was arrested.
Separately, police Mianwali district repulsed a militant attack on Makarwal police station.
Liaqat Ali, spokesperson for Swabi police that they conducted an IBO on the reports of militants' presence in the area. He said that two militants identified as Izharullah and Zeenat were killed in the operation. Besides, another militant and two suspects were also arrested.
Izharullah was wanted to Swabi police and Counter Terrorism Department in several incidents of terrorism. Beside, the militant was also behind attacks on Kalu Khan and Yar Hussain police station. In addition to this, he also reportedly organized attacks on polio workers, traffic police personnel and other incidents of terrorism.
He was carrying a head of money of Rs 2 million. Besides, his father was an assistant sub inspector of Airport Security Force and mastermind of Peshawar Airport attack.
In addition to this, Izharullah was also involved in several incidents of targeted killing of police personnel in 2013, 2014 and 2022.
Two days ago, two militants were killed in another IBO in the Hund area while another one was arrested.
Attack on Makarwal police station
Earlier on Tuesday night, Tehrik Taliban Pakistan's militants attacked the Makarwal police station in Mianwali, which the police successfully repulsed.
Besides, there was no loss of life was reported.
Police officials confirmed the attack on Makarwal police station. However, they added that there no causalities.
Police said that there were about 20 to 25 attackers, armed with heavy and lights weapons and opened fire on police station. The attackers were also chanting Allah-o-Akbar.
Police personnel from other areas of the district were also dispatched to the police station.
TTP on the other hand claimed responsibility for the attack and said that they have caused damages to police.
It is worth mentioning here said that police is security forces are conducting an operation in southern Lakki Marwat district of Khyber Pakhtunkhwa for past one month. Authorities have also shut down mobile phone signals in the area.
Hits: 17