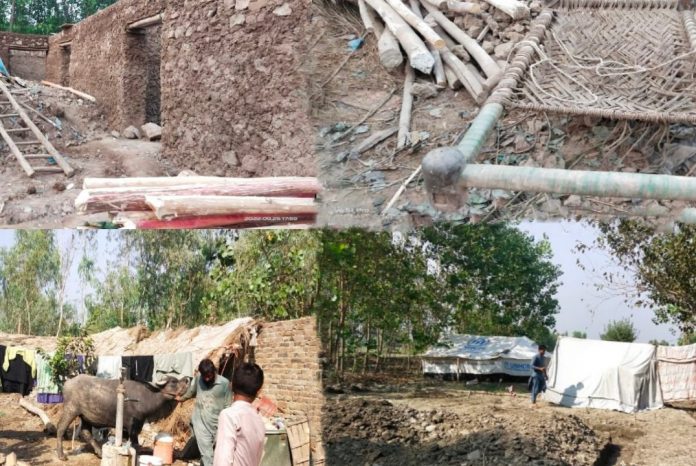 Abdul Sattar
When raging waters of River Kabul inundated the house of Maryam Bibi, a resident of Bela Pirpiai area of Nowshera district earlier in August last year, they with great difficulty managed to pull out her ailing aunt and a minor to safety. They left the aunt at one of the relatives and spend the entire day on railway track in the hope of getting to her home as soon as the water receded. She still feels cries remembering her helplessness of those days.
Four villages of Bela Pirpiai including Liaqatabad, Majeed Abad, Ghaziabad and Mohsin Abad located on the banks of River Kabul and were inundated by the flood waters.
Maryam, 40 a widow has no fixed source of income and someone had built this mud brick house for her. When her house was inundated, she was forced to spend her time with whatever she managed to salvage on a railway track during the day while she used to go to nearby houses to spend her nights.
After five days when the waters subsided, the entire area was under heavy mud and she managed to make it to her home with great difficulty. "Everything in the house was destroyed by flood waters," she said.
She said that there was neither anything to eat nor to use.
Maryam said that authorities and non-governmental organizations did not help them; however, she said that some local volunteer women made her arrangements of her food and lodging.
They also provided me with utensils, cot and bedding, she said.
Nowshera district is among the worst hit areas after Swat and Charsadda districts due to August floods and hundreds of houses were destroyed. River Kabul also washed away protection walls near Nowshera and inundating large areas of the district.
When large numbers of poor people were looking for help during floods, government officials were missing from scene, forcing many people to desperate measures.
Nasreen, 35 a resident of Nowshera Kalan also went through same.
She was living in a rented house and when flooding inundated her house, all her possessions were destroyed. However, she made repairs to the house; her landlord evicted her and also started collecting relief items and rations meant for flood affectees.
On the other hand, Nasreen husband was jobless and eviction from her house alo deprived them of their roof.
Similarly, Nasreen family was consumed by skin infections after the floods. Having nothing to eat and lacking a shelter to seek shade in scorching heat, a dejected Nasreen tried to kill herself along with children by jumping into River Kabul; however, she was saved by the Rescue 1122 personnel.
An unidentified lady provided her with some cash after her suicide attempt while another local provided a three marlas of land to construct her home. Similarly, a woman volunteer promised to build a room on this donated land besides providing her with bedding and cots
Local volunteers and philanthropists have extended help to large number of flood affected persons earlier last August and also made arrangements for their lodging and food. Ms Seema Babar is one of them. Ms Seema, a local volunteer from Nowshera district said that they helped Nasreen.
After the floods, Seema Babar setup the Mohib Watan Volunteers with the help of 40 women and 30 male volunteers. Health and education department officials as well as students were also among its members and soon afterwards setting up this organization they also started visiting the flood affected areas to help the affected people.
This organization provided bedding, cots and other items of daily use in Sheikh Abdul Ghafoor Baba area in Amangarh locality of Nowshera tehsil.
This organization is still helping the flood affected people in one or the other way and has extended support to100 women in rehabilitation of their flood destroyed homes.
Majority of these flood affectees were neither assisted by government nor by any non-governmental organizations.
Seema said that people in natural disasters need immediate assistance while government assistance always came after surveys and data compilations.
Similarly, Nasir Khan, a resident of Nowshera Kalan said that the floods had washed away a portion of area's flood protection works which resulted into the inundation of the area. "The area stood beneath over seven feet high waters," he said.
Besides, he said that increasing the height of River Kabul flood protection works can save Nowshera Kalan from floods in future.
PDMA KP data shows that a total of 72,678 people were affected due to the floods in the Nowshera district and shifted to relief camps. Similarly, the floods also killed three people and damaged or destroyed 979 houses in the district.
Besides, authorities had also rescued 20,900 people from flood affected areas.
PDMA said that an online survey was currently in progress for the payment of compensation to owners of damaged and destroyed houses. KP government will pay Rs 400,000 to owners of completely destroyed houses while Rs 160,000 to partially damaged ones.
Hits: 31