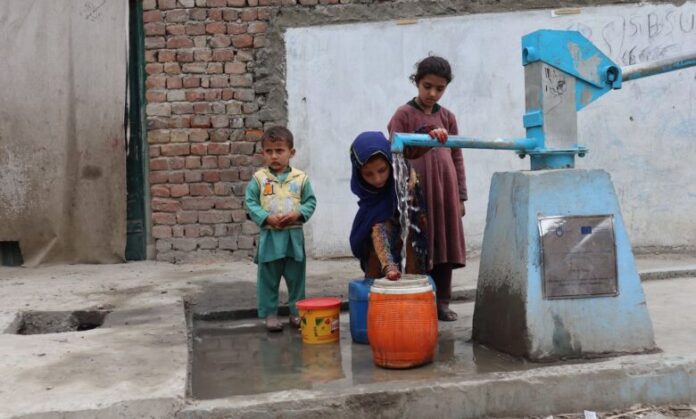 Muhammad Faheem
Hayatabad, an upscale area in Peshawar, known for its high property prices and inaccessible housing prospects, fails to provide the expected modern amenities to its residents. Among these deficiencies, the most pressing issue is the severe water crisis.
Take the case of Muhammad Akram, an entrepreneur residing in Hayatabad Phase 6, who spends a significant sum of 4,000 rupees every week to purchase a water tanker, in addition to buying drinking water separately.
According to Akram, relying on the official water supply is now futile, and residents must resort to procuring private tankers on a weekly basis. Furthermore, they spend over 800 rupees each week on three to four 19-liter bottles of mineral water for drinking, bringing their total water expenses to around 5,000 rupees weekly.
By 2025, there will be a shortage of drinking water in Peshawar
The water crisis gripping Hayatabad Phase 6 is not an isolated issue but extends to various areas in Peshawar. A study conducted by the Sanitation Services Company Peshawar in 2017 predicts an alarming shortage of drinking water in Peshawar by 2025.
Also Read: New Polio Case Reported in Nangarhar Province, Afghanistan
As anticipated, the water shortage has already commenced, with underground water levels steadily declining in Hayatabad and University Town. Residents are increasingly dependent on water tankers for their drinking water requirements.
On the other hand, Hasan Ali, spokesperson for the Sanitation Services Company Peshawar, acknowledges that the aforementioned study was conducted six years ago. Nevertheless, recent rainfall has positively impacted groundwater levels, offering some relief and potentially mitigating the severity of the projected water shortage in 2025.
Water meter installation plan
Efforts to address the water shortage crisis involve two key strategies: ensuring adequate water supply and minimizing water wastage. Alternative water sources are being explored, and measures are being implemented to prevent water wastage, including the installation of water meters.
The positive results from the experimental use of water meters in Peshawar have paved the way for a comprehensive project under the Khyber Pakhtunkhwa Cities Improvement Project. This project aims to install water meters throughout Peshawar, enabling citizens to be billed according to their water consumption, thereby discouraging reckless water usage.
Additionally, plans are underway to supply water to Peshawar from three dams, namely Mohmand, Jabba, and Bara dams. However, the increased distance of the Mohmand Dam from Peshawar has adversely affected the efficiency of the Jabba and Bara dams.
These two dams, once operational, will provide direct benefits to the entire city, including Hayatabad and University Town. Regrettably, progress on these dam projects has been hindered by administrative complexities involving the Department of Local Government, the Department of Irrigation and Forestry, and the Irrigation Department.
Water lost in federation-province battle
Shafiq Afridi, a former member of the provincial assembly from Khyber, sheds light on the challenges encountered in initiating these dam projects. Historically, he said, dam construction was not prioritized by previous governments. While initial efforts were made to commence the construction of the Jabba and Bara dams, the withholding of funds by the federal government stalled progress, impeding not only these projects but also exacerbating the water crisis.
According to Afridi, the Jabba Dam project, focused on water supply, has made substantial progress. However, due to the financial crisis, not a single penny has been allocated in the past 14 months, halting the project entirely. The Bara Dam project, designed to provide irrigation, electricity generation, and drinking water, also faces delays. Despite hiring a firm for the detailed design, no progress has been made, and the absence of a functioning provincial government further hampers any potential advancements.
Features of Bara and Jabba Dam Projects
The Jabba Dam, estimated to cost 9 billion 90 crores 65 lakh rupees, will have a storage capacity of 37,984 acre-feet of water, sufficiently meeting the drinking water requirements for the next 50 years. It will supply water to areas such as Shah Kas, Sur Qamar, Qambarkhel, Sarki, and other regions of Khyber, as well as Hayatabad, Regi, and Pishtakhara areas of Peshawar. It is projected to provide approximately 32.3 million gallons of water daily by installing a filtration plant at Jabba Dam.
The proposed Bara Dam, even larger than Jabba Dam, is expected to require an estimated 30 billion 25 crore rupees for its construction. Apart from catering to irrigation needs and increasing cultivated areas, the dam will generate 5.8 MW of affordable electricity. Furthermore, it has the capacity to provide approximately 5,400 million gallons of clean drinking water annually for the people of Peshawar and the surrounding region.
Expensive dam-to-transmission line project
A comprehensive plan was formulated three years ago to supply water from the Jabba and Bara dams, which involved laying transmission lines at a total cost of over 18 billion rupees. A feasibility report costing 9.9 billion rupees was prepared for the transmission lines, and another report estimated the project cost to be around 18 billion rupees. However, these feasibility reports have remained confined to paperwork.
The Sanitation Company Peshawar and the Peshawar Development Authority have shown interest in the project, but they await the initiation of dam construction before proceeding with the water supply lines. Unfortunately, inflation has caused the project's estimated cost to rise due to the delay in its implementation.
Hits: 32