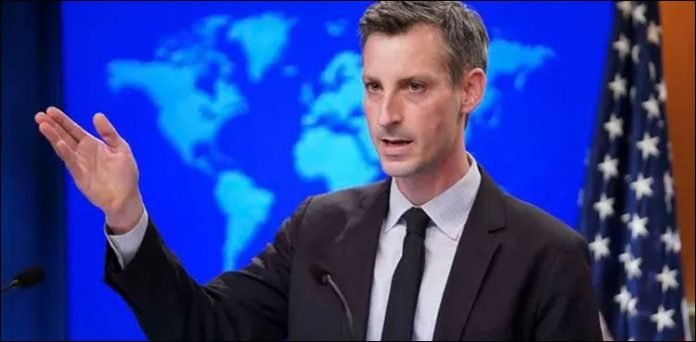 The United States has said that Pakistan could purchase petroleum from Russia at discounted price despite not signing a western backed price cap on purchasing Russian oil.
State Department spokesperson Ned Price told reporters in a briefing that Pakistan could also benefit from concession the US has allowed to other countries to purchase oil from Russia.
He said that the US has also encouraged some countries to take advantage of discounted oil prices. Price said that even those countries who have not signed the price cap can purchase oil from Russia on big discounted price.
Earlier in December last year, the G7 and European Union had set a price cap of US$ 60 per barrel on the Russian oil. This move has been made to deny the Russia opportunity of using its oil proceeds to in its war in Ukraine.
In addition to this, Europe has also stopped in oil and gas imports from Russia; therefore, the controlled purchase countries like Pakistan. Besides, Pakistan has also not signed the Washington backed the price cap on Russian oil as it does not imports oil from Russia.
"We have made the point that we have very intentionally not sanctioned Russian oil. Instead, it's now subject to the price cap. So we have encouraged countries to take advantage of that, even those countries that have not formally signed on to the price cap, so that they can acquire oil in some cases at a steep discount from what they would otherwise acquire from, in this case, Russia," he said.
Besides, he said that they have been very clear that now is not the time to increase economic activity with Russia. "But we understand the imperative of keeping global energy markets well resourced, well supplied, and the price cap, we believe, provides a mechanism to do that," he added.
Pak-Russia talks
Earlier last Friday, Pakistan and Russia had agreed to sign an agreement by March in order for supply of Russian oil at discounted rate.
Russia's Energy Minister Nikolay Shulginov had earlier last week visited Pakistan and held talks with the Pakistani authorities
Russian minister said that they have decided that it would be a good idea for Pakistan to approach Gazprom and Novatek, two largest LNG-producing companies, in late 2023 to discuss the conditions when they have spare capacities.
Currently, Pakistan is facing energy shortages and annually spends US $ 1.2 billion on importing petroleum products.
Similarly, experts are also warned that Pakistan could face oil shortage in near future due as country is facing foreign exchange crisis. Purchase of discounted Russian oil can offset pressure from Pakistan reserves.
Hits: 18