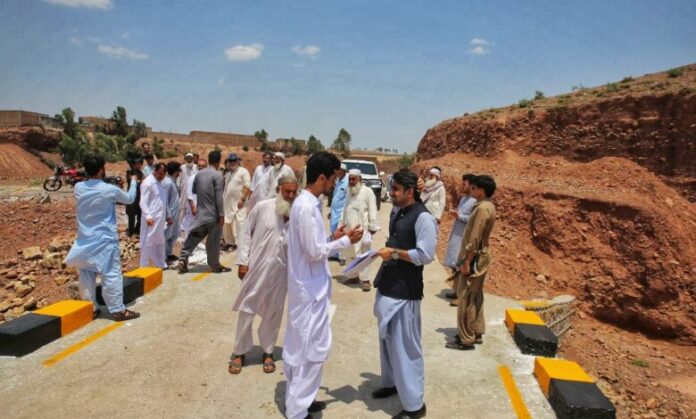 Peshawar: The Pakistan Community Support Project (PCSP) in Khyber, Peshawar, and Nowshera districts underwent a comprehensive technical evaluation by the World Bank.
The evaluation involved site visits, discussions on progress, and engagements with local communities. Led by Project Director Shakeel Ahmed, the World Bank delegation collaborated with the Project Management Unit and Project Implementation Unit throughout the week-long activity.
During the review, the World Bank delegation inspected various completed community infrastructure sub-projects in Landi Kotal, Badaber, and Jaluzai, engaging with the local population who benefited from these development initiatives. The progress of the PCSP was discussed, with 165 approved community infrastructure sub-projects sanctioned, 50 of which have already been completed, and work on the remaining projects is underway.
The total cost of the projects in Khyber, Peshawar, and Nowshera amounts to Rs 1,372 million, benefiting approximately 548,752 individuals. By the end of June 2023, 83 more sub-projects will be completed, with a target of 165 projects by September 2023.
Also Read: Primary Teachers Demand Upgradation in Khyber Pakhtunkhwa
During the field visits, the World Bank delegation observed completed projects such as Government Girls' Primary Schools and Primary Health Centers in Badaber, Peshawar District, and Landi Kotal, Khyber District.
They also visited community infrastructure projects, including link roads, street paving, and water supply in Jaluzai, Nowshera District, where they met with community representatives to identify and implement further development activities. The local population highlighted the significance of the CASA-1000 power transmission project and its associated benefits, which are being facilitated through the support of the PCSP.
The technical review covered additional aspects of the project, such as the maintenance of completed sub-projects, capacity-building training sessions for communities, communication support for project outreach, and women and youth development.
The PCSP, in collaboration with the World Bank Task Team, also conducted Community Scorecard activities in Khyber and Peshawar, gathering feedback from communities on the quality of PCSP-assisted rehabilitated girls' primary schools, and civil dispensaries in Nikkihel, Sultankhel areas of Landi Kotal, as well as Maryamzai locality of Badaber in Peshawar.
Overall, the technical review by the World Bank provided valuable insights into the progress and impact of the PCSP, reinforcing the commitment to community development and improving the lives of the people in the Khyber, Peshawar, and Nowshera districts.
Hits: 66