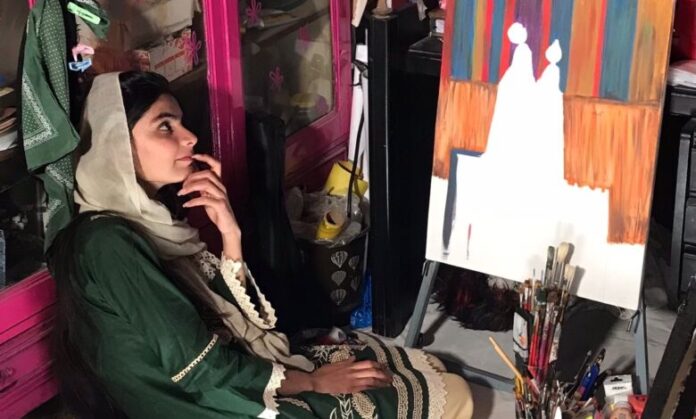 Anwar Khan
Tubes of vibrant colors everywhere, brushes scattered randomly across the room, all kinds of paintings and half-finished paintings on the canvas; this corner (her art gallery) of the house is the whole universe of a young artist, Zikra Bint e Amir, where she mostly spends time creating portraits and other artworks.
Zikra, a resident of Nothiya, Peshawar, was fond of paintings since childhood. While talking to TNN, she said that at first she heard very negative things, but she did not lose her heart, and with time the work improved a lot and now people started liking her work.
The demand for portraits is very high because people want to see themselves on canvas while creating a human figure on canvas and paper is not an easy task, said the young artist.
She said that after completing the work, she checks on it for about an hour so that if there is anything left, that can be finished. According to her, 40 out of 50 people want a portrait by Zikra.
Also Read: Peshawar Paraplegic Center arranges painting competition
Zikra, an intermediate student in a government college in Peshawar, said she specializes in portraits, abstracts, landscapes, calligraphy, and painting on carpets, while nowadays people prefer hand-painted dresses more than branded clothes.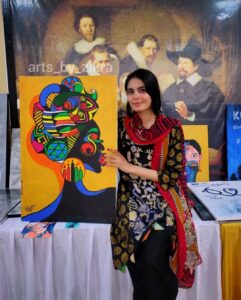 She said that when she entered class two, she was more interested in drawing than in all other subjects, "The drawing teacher used to tell me not to leave art, as I look like a star in this field."
Zikra, now, has realized the importance of her work, "Earlier, when I would ask someone for 10,000 rupees for a painting, the customer would argue, and finally settled for 5,000 rupees. Now mostly, I do not work with such people, I sell it at fixed prices, if someone takes it, or else I keep it aside, the price of the paintings varies from 5 thousand to RS20,0000."
Zikra has a collection of colors worth Rs30,0000. She never took money from her parents for painting, she started with sketching and saved money to buy paintings.
"The first sketch, I drew, was sent to Islamabad; sold at 300 rupees, Rs250 were charged by the delivery service, and Rs50 rupees were saved. This is an expensive hobby. I charge people for my work, not colors," the talented young artist recounted her story.
According to Zikra, anything is easy to do if you have the will, "I am studying in college and already getting offers of scholarships from universities, artist girls should display their artwork on social media."
"I am so attached to paintings that once I bought one of my paintings for 8 thousand and kept it at home, now I will not sell it at all, I spend all the money I earn on colors, I have not saved anything."
She further said that everyone says that NCA is a very good place for artists, so, after intermediate, I will try to get myself enrolled there.
Hits: 10