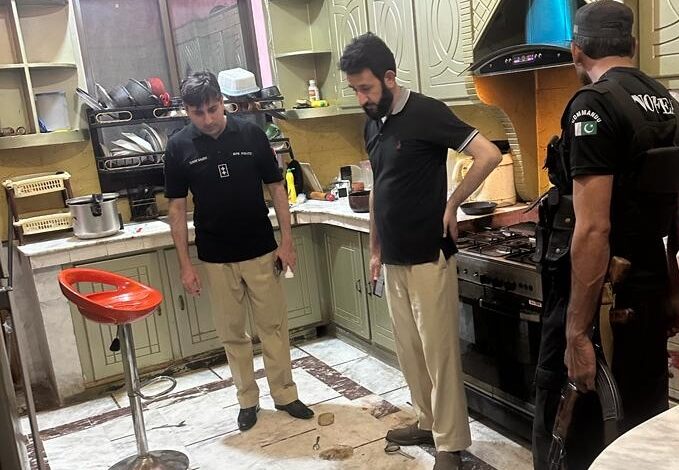 Aftab Mohmand
A 10-year-old boy allegedly shot and injured his father in the upscale area of Hayatabad, Peshawar. The victim, Dr. Shahid Rizwan, a long-time employee of a private hospital in Peshawar, has been admitted to Hayatabad Medical Complex for treatment. Initially, Dr. Shahid Rizwan claimed that he was injured by an unknown motorcyclist. However, the Tatara police revealed that he was shot by his son.
Dr. Shahid Rizwan provided a statement to the Tatara police station, stating that he was at home last night when unknown individuals knocked on his door and rang the bell around 12:10 am. As he stepped out, one of the individuals on a motorcycle suddenly fired at him, causing serious injuries. Taking advantage of the darkness, the unidentified motorcyclists managed to escape.
In his statement, Dr. Shahid Rizwan further mentioned that three weeks ago, he had filed an online FIR reporting that unknown individuals had previously knocked on his door, threatened him, and fled. When contacted by TNN, Dr. Shahid Rizwan's family declined to provide any further details or discuss the incident.
Also Read: Cyclone Biparjoy to Hit Keti Bandar, 81 Thousand People Evacuated in Sindh
According to the spokesperson of Hayatabad Medical Complex, the injured victim is now in stable condition, and the required treatment is progressing well.
Upon receiving information about the incident, the Tatara police station informed that a man named Shahid Rizwan, who works as a doctor and also has a licensed firearm, had been injured in firing in Phase 7 of Hayatabad. The DSP of Hayatabad, Muhammad Arshad Khan, and SHO of Tatara Police Station, Taimur Saleem, immediately reached the scene and arranged for the injured Dr. Shahid Rizwan to be transported to the hospital for medical attention.
The Tatara police further stated that an investigation team was formed and dispatched to the victim's residence. At the time of the incident, the victim's son, Muhammad Arshman Umar, aged approximately 10 to 11 years old, and his daughter were present.
Initial investigations by the police revealed that a domestic dispute between the husband and wife, involving allegations of domestic violence, had taken place. The son, Muhammad Arshman Umar, took his mother's side and fired at his father inside the kitchen, causing the injury.
The police investigation team collected several pieces of evidence from the scene, including a pistol and multiple spent shells. In response to a question, the Tatara police informed TNN that since Muhammad Arshman Umar is a juvenile and currently present at his residence, with no attempt to escape, there is no need to arrest him at this time.
Further investigation into the incident is ongoing, and the police will take appropriate action by the law once the conclusion is reached.
Hits: 95