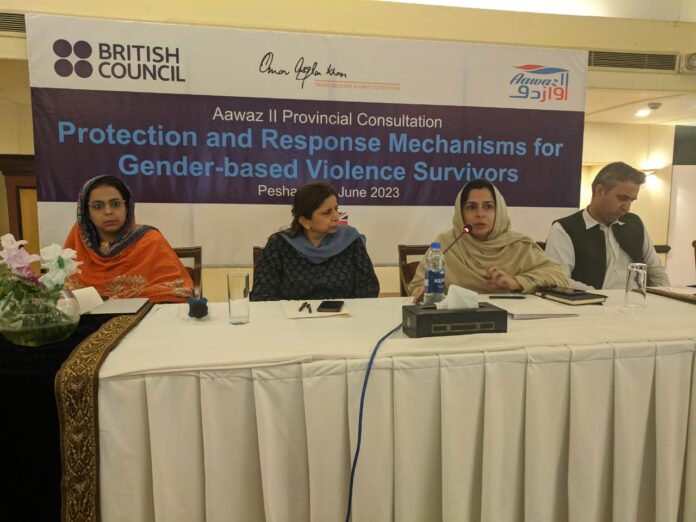 Peshawar: In an effort to support survivors of gender-based violence and promote their self-reliance, the Government of Khyber Pakhtunkhwa (KP) is introducing new facilities and programs. This initiative aims to provide advanced skills training, enhance support services, and improve coordination among various government departments.
The announcement was made by Ms. Warda Latif, Deputy Secretary of Social Welfare & Women's Empowerment, during a consultation on "Protection and Response Mechanisms for Gender-Based Violence Survivors" organized by the Aawaz II program on June 8, 2023, in Peshawar. The event brought together over sixty participants, including women, persons with disabilities, transgender individuals, and religious minorities from various districts across KP.
One of the key initiatives highlighted by the Deputy Secretary is the upgrade of 125 industrial training centers to offer advanced skills training specifically tailored for survivors of gender-based violence (GBV). These training programs aim to equip survivors with marketable skills, facilitating their reintegration into society. Additionally, efforts are being made to expand and improve the existing Dar-ul-Aman shelters and enhance the outreach of the Bolo Helpline, ensuring comprehensive support for survivors.
Also Read: Anti-Pakistan Terrorist Sanaullah Ghaffari Mysteriously Killed in Afghanistan
The Aawaz II program, which operates in 14 districts of KP, focuses on addressing gender-based violence, child marriages, and social cohesion. Through the establishment of volunteer forums at village, district, and provincial levels, the program aims to connect service providers directly with the community to address their specific needs.
While highlighting the progress made, Ms. Rafat Yasmin, Gender and Inclusion Advisor of Aawaz II, emphasized the need for official notifications of District Committees on the Status of Women (DCSW) in all districts of KP. However, their establishment is pending due to the requirement of amending the KPCSW (Khyber Pakhtunkhwa Commission on the Status of Women) law to align with KP's local government law.
Mr. Zikriya, Programme Analyst Gender/GBV from UNFPA Peshawar Office, stressed the importance of strong coordination among government departments such as Police, Health, and Social Welfare to ensure effective service delivery for the protection and response to gender-based violence. UNFPA is actively supporting the Social Welfare Department in developing a comprehensive database for Dar-ul-Aman and the Bolo Helpline.
During the consultation, participants from the 14 districts of KP shared their challenges in accessing government facilities and proposed recommendations to enhance services. These recommendations included the establishment of dedicated desks at police stations to sensitively handle GBV cases, improved accessibility and training at Dar-ul-Aman shelters for women with disabilities, and the creation of specialized safe homes for transgender individuals to provide them with protection, support, and opportunities for skill development.
Ms. Rashida Dohad, Executive Director of the Omar Asghar Khan Foundation, and the lead partner of Aawaz II in KP, emphasized the significance of the consultation in gaining insights from the experiences of participants in accessing district-level services. She emphasized that establishing effective structures at the district level is crucial to respond to the needs of women experiencing violence, complementing the ongoing efforts for women's empowerment and the enactment of domestic violence laws.
The Aawaz II program, managed by the British Council, aims to promote the rights of women, youth, religious minorities, and other vulnerable groups in KP and Punjab, working towards a more inclusive, tolerant, and peaceful Pakistan.
Hits: 69