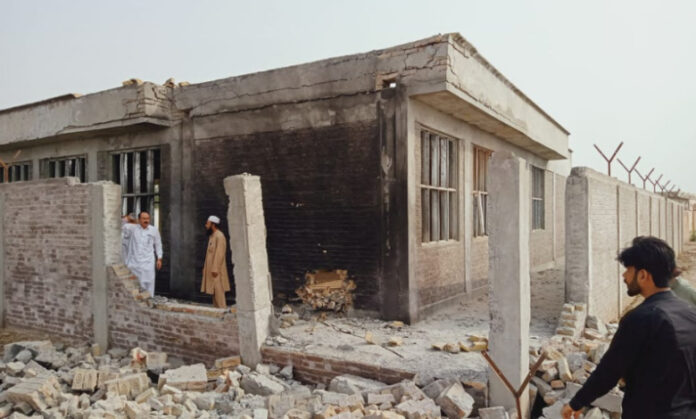 G.A Marwat
Unknown individuals have set fire to two government schools and a rest house in Kotkat village of Tank, a southern district of Khyber Pakhtunkhwa province, resulting in the complete destruction of the government primary school, government middle school, and the rest house. The schools' furniture and electronic equipment have also been reduced to ashes in the incident.
The Tank police spokesperson has confirmed that a police party has been dispatched to Kotkat to investigate the matter. Notably, due to the presence of militants in the village, local residents had vacated their houses two weeks ago, fearing for their safety.
Also Read: Mianwali Police Officers Caught in Kohat Dance Controversy
Kotkat village has witnessed several casualties in the past due to militancy, prompting the entire village, consisting of approximately 250 houses, to be evacuated out of concern for the residents' security.
It is worth mentioning that earlier in Mir Ali Tehsil of North Waziristan, unknown individuals had detonated explosives, destroying two girls' schools. The targeted schools were the late Dr. Noor Jannat Gul Girls School and Younis Girls School located in Hasukhel Village, Mussakki, Tehsil Mir Ali.
Later, in Mir Ali Tehsil of North Waziristan, a protest was organized by the National Democratic Movement (NDM) workers condemning the recent bombings targeting schools. Addressing the demonstrators, Jamal Dawar expressed deep regret over the bombings and linked these recent incidents with past attacks on educational institutions in the Pashtun region. He labeled it as a sinister conspiracy and called upon the state to ensure the protection of schools.
Hits: 25