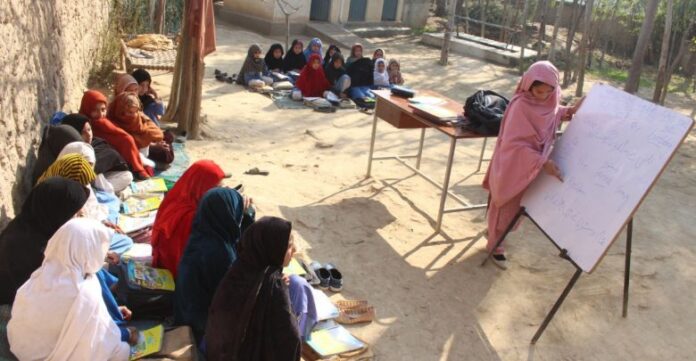 Misbah ud Din Utmani
Muhammad Iqbal, a resident of Hayati village in Utmankhel Tehsil of Bajaur, is deeply concerned about his second daughter's education, as his elder daughter had to forgo her education due to the absence of a girls' middle school in their area.
Hayati village, with a population of 8,464 according to the 2017 census, falls into the category of 265 villages lacking middle or primary schools for girls. Consequently, around 3,000 girls in these villages are forced to discontinue their education after completing primary school.
Among these girls is 13-year-old Amina, who had excelled in her class two years ago during the primary exams. Her ambition was to continue her educational journey by enrolling in a middle school. However, due to the unavailability of a middle school in her village, her aspirations remain unfulfilled.
Sitting on a cot in the courtyard of her house, Amina expressed her passion for education, stating, "Since childhood, I have had a strong desire for education. My parents also wished to provide me with higher education, but they too were helpless. Now my father brings fifth-grade books, and when he returns from work in the evening, he teaches me. I will strive to fulfill my father's dream by taking a private exam."
Also Read: Bara: Historic School Construction Inaugurated After 6-Year Land Dispute
Bajaur, with a population of 1,093,684 according to the 2017 census, is home to approximately 536,520 women. The Department of Education in Bajaur reports the presence of one girls' higher secondary school, 13 high schools, 42 middle schools, and 186 primary schools. Additionally, a Girls' Degree College has been established in the district within the premises of the government hospital. However, even there, admission is limited to only two B.S. programs.
Statistics from the Development and Planning Department reveal that 79 percent of girls in the tribal districts drop out of education before reaching the fifth grade. A document released by the department highlights that over 92 percent of tribal women are unable to read or write, emphasizing the urgent need to address the educational challenges faced by girls in the region.
Qari Muhammad Iqbal, the father of Amina, firmly believes that the low rate of girls' education in Bajaur is primarily due to the lack of educational institutions and the government's apparent lack of interest. He asserts that 99 percent of parents in Bajaur are eager to educate their daughters, but the scarcity of educational facilities prevents this from becoming a reality.
Qari Muhammad Iqbal points out that Tehsil Khar in Bajaur has comparatively more educational institutions for girls, which is why many girls receive an education there.
Sharing his personal experience, Qari Muhammad Iqbal shares, "I have three daughters, and unfortunately, my eldest daughter had to drop out after completing primary school because there isn't a single middle school in our village or nearby areas. Now, I worry about my daughters who are currently studying in classes I and II."
He further explains that the economic conditions of the people in the area are not strong enough to afford to send their daughters to a middle school located 11 kilometers away. Qari Muhammad Iqbal believes that if primary, middle, and high schools are established in every village of Bajaur, the girls' education rate can surpass that of boys.
According to a report by the Department of Education in Bajaur, out of the seven tehsils in Bajaur, six lack a single higher secondary school for girls. Tehsil Chamar Kand does not have any middle or high schools for girls. In Tehsil Utmanakhel, there are two high schools, eight middle schools, and 35 primary schools for girls. In Tehsil Nawagai, which consists of 60,000 individuals, there is one high school for girls, three middle schools, and 11 primary schools.
Maryam (pseudonym), a 30-year-old MPhil scholar from Tehsil Khar in Bajaur, is currently teaching science in a government high school. She shares her challenging educational journey, stating, "When I was in the ninth grade, terrorists attacked and destroyed our school with bombs. Despite those difficult circumstances, I continued studying at home, and today I have the privilege to teach science subjects to the girls of Bajaur, Alhamdulillah!"
Maryam emphasizes that girls in Bajaur are talented and passionate about education. However, many of them come from remote areas, and as they grow older, they face challenges commuting to and from school, leading to a high dropout rate. Maryam points out that her school alone has over 400 girls, with more than 120 enrolled in the sixth grade. The classrooms are overcrowded, and there is a dire need for educational institutions to accommodate these eager learners.
According to the Department of Education, there are 149,985 girls between the ages of 4 and 10 years in Bajaur, of which 82,135 are out of school. Bajaur requires an additional 210 primary schools for girls, and there are 92 vacant positions for women teachers. Furthermore, the Student-Teacher Ratio (STR) indicates a need for the recruitment of 690 more teachers.
Sarah, a determined 14-year-old ninth-grade student at Government High School in Khar, aspires to become a doctor. However, she shares her concern about the overcrowded classrooms, with more than 70 students in her class. Many girls in her neighborhood have already dropped out due to the lack of transportation facilities.
Noor Zia, the Assistant Education Officer at the Department of Education in Bajaur, acknowledges the increasing enrollment rate of girls. The department has conducted awareness seminars and requested the provincial government in 2021 to address the shortage of educational institutions and staff. However, due to limited funds, the proposed measures have not been implemented. Noor Zia emphasizes their dedication to working tirelessly with limited resources to provide better educational opportunities for the girls of Bajaur.
Rehanzeb, a 28-year-old social activist and youth leader from Tehsil Salarzai, sheds light on the shift in parental attitudes toward girls' education. In the past, he explains, parents were reluctant to educate their daughters beyond primary school, citing concerns about walking long distances. However, with the merger of tribal districts in Khyber Pakhtunkhwa, people's perspectives have changed, and now everyone desires education for their daughters. The pressing question remains: Where are the necessary educational institutions to fulfill this aspiration?
Rehanzeb highlights the challenge of higher education for girls in Bajaur, emphasizing that owning a private vehicle is often necessary for access. He asserts that there is not a single area in Bajaur where schools exist, but girls do not attend. He cites Tehsil Salarzai Government High School in Raghgaan as an example, where girls travel several kilometers to study, demonstrating their strong desire for education. However, the lack of educational institutions poses a significant obstacle to their aspirations.
Malik Shah Muhammad Khan, the caretaker provincial minister of Khyber Pakhtunkhwa, acknowledges the government's commitment to improving girls' education in tribal districts. The provincial government is actively working to provide education and necessary facilities to the younger generation, with a particular focus on girls' education. He highlights the upcoming completion of the Government Girls Degree College Bakhakhel, which will offer better opportunities for higher education and eliminate the need for students to travel long distances for education.
Shah Muhammad further states that the provincial government has undertaken the construction of 443 new schools in the tribal districts, including primary, middle, and higher secondary schools. These schools are expected to be completed by June 30, 2024, addressing the pressing need for more educational institutions.
When asked about the low education rate of girls in Bajaur, Dr. Khalil, the superintendent of sub-division Nawagai, attributes it to the scarcity of educational institutions. He points out that non-local staff are often recruited for these institutions, resulting in minimal teaching time, typically only two or three days a week. This further contributes to the educational challenges faced by girls in the region.
Dr. Khalil expresses disappointment regarding the lack of development funds for the education of girls despite prioritizing it during his tenure as Nazim. He highlights that the government's current priorities do not adequately address the education and employment needs of the youth in the merged districts, which has resulted in a resurgence of extremism. Nevertheless, he remains committed to the ongoing struggle for promoting peace, education, and employment opportunities in the region.
Note: This story is part of the Pakistan Press Foundation (PPF) Fellowship Program.
Hits: 1