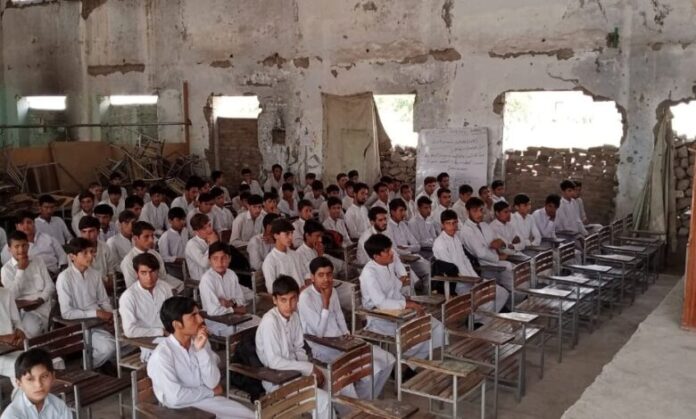 After a prolonged six-year dispute over the land, the construction of Government High School Alam Gudar, a historic educational institution in Tehsil Bara of Khyber district, was inaugurated, bringing relief to students and teachers who had been enduring extreme weather conditions in makeshift facilities.
Established in 1913, Government High School Alam Gudar had suffered extensive damage due to militancy, leaving students to study in tents. The lack of proper infrastructure subjected them to harsh weather conditions throughout the year.
Also Read: Dir Upper Residents Express Frustration Over Unavailability of Ghee Despite Price Reduction
The inauguration ceremony witnessed the presence of notable figures such as Additional Deputy Commissioner Finance Abdul Haseeb, Additional Assistant Commissioner Aimal Khan, Sub Division Officer C&W Abid, Deputy Education Officer Shahid Ali, Principal Rifaqatullah, Chairman Ikhtiar Badshah, Javed, and Ameer e Jamaat-e-Islami Bara Khan Wali. Students and local dignitaries also attended the event.
The school principal expressed gratitude to the Bara Sipah chairman, social workers, politicians, and particularly the journalists of the Bara Press Club, whose continuous reporting had drawn attention to the land dispute. Thanks to their efforts, the government initiated the reconstruction of the school on the disputed land.
The principal further stated that based on the availability of funds, the plan is to complete the construction of the school building by December. Currently, around nine hundred students are studying in tents and fabricated rooms, but once the new building is constructed, this problem will be resolved, providing a suitable learning environment for the students.
Hits: 1