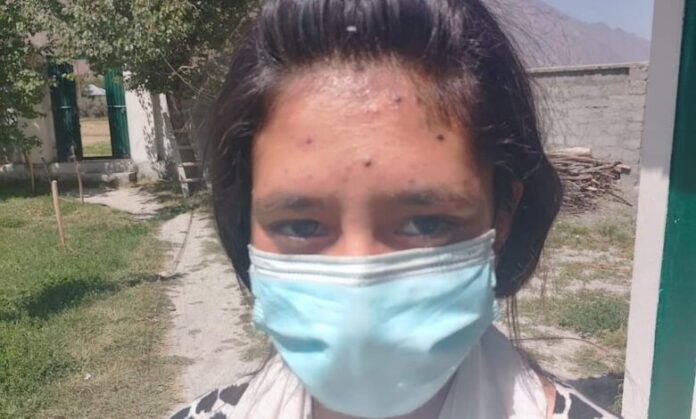 Khalida Niaz
Chitral and Khyber, two districts in Khyber Pakhtunkhwa, are grappling with a chickenpox outbreak, affecting dozens of individuals, including students.
Dr. Irshad, the District Health Officer (DHO) for Upper Chitral, reported that 113 female students across 11 schools have contracted the chickenpox virus. Consequently, these schools have been temporarily closed for a week. In response to the reported cases, medical teams have been dispatched to the affected regions. These teams are not only providing medical assistance but also conducting awareness campaigns to educate the local population.
The DHO added that an extensive awareness campaign, facilitated by lady health workers, is underway to inform and educate the public about chickenpox. All available resources are being mobilized to contain the disease. Medical teams conduct daily visits to affected areas and establish medical camps for further assessment and assistance.
Also Read: Pakistan Butterfly Society Takes Flight for Conservation
Meanwhile, in the Tirah Valley of Khyber district, 11 individuals have contracted chickenpox. Dr. Irshad Roghani, the Director of Public Health, noted that a medical team had been dispatched to establish a medical camp following the recent chickenpox cases reported in Chitral. Fortunately, there have been no reported deaths due to this disease.
Understanding Chickenpox
Dr. Faisal Berkzai, a pediatric surgeon at Khyber Teaching Hospital, explained that chickenpox is a viral infection caused by the varicella-zoster virus. The disease typically presents with a rash on the patient's body, which gradually spreads. In addition to skin rashes, patients often experience fever, headaches, and abdominal pain. Dr. Faisal Barakzai, a spokesperson for the Young Doctor Association in Khyber Pakhtunkhwa, added that chickenpox symptoms persist for a period of ten to twenty-one days.
Is Chickenpox Contagious? Dr. Faisal clarified that chickenpox is highly contagious. It can spread through respiratory droplets when an infected individual coughs or sneezes. Additionally, direct contact with an infected person's rash can also transmit the virus. He emphasized that the rash typically appears on the face, head, and chest initially and may eventually cover the entire body. Some patients may also develop rashes in their mouth and other areas apart from the eyelids.
Treatment for Chickenpox
Regarding treatment, Dr. Faisal stressed the importance of vaccinating children against chickenpox. He highlighted that mothers who receive the vaccine during pregnancy reduce the risk of their children contracting the disease. Even if a vaccinated child contracts chickenpox, they tend to experience milder symptoms because of the antibodies acquired from their mothers.
Dr. Faisal recommended avoiding scratching the rash when a child has chickenpox. Frequent baths, wearing soft clothing, and administering antihistamines are beneficial. He advised against using aspirin or ibuprofen but recommended giving paracetamol. While chickenpox generally has a low mortality rate, individuals with underlying health conditions should exercise extra caution.
Hits: 46