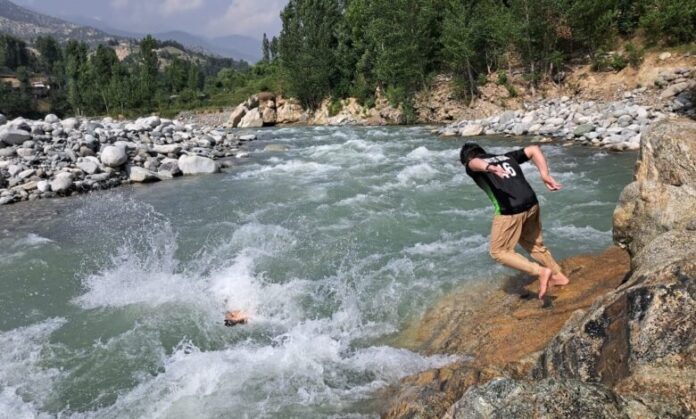 Nasar Zada
Dir Upper, a district in Khyber Pakhtunkhwa, is currently experiencing a heatwave, similar to other districts in the region. The rising temperatures have prompted local residents to seek relief by visiting the Panjkora River. However, the lack of safety measures has led to unfortunate incidents, particularly involving young children.
Abdul Razzaq, a 65-year-old resident from the Darora area of Dir Upper, highlighted that the effects of climate change have intensified the heatwave in the region. Unusually early snowmelt on the mountains has contributed to the hotter-than-usual temperatures experienced in June.
In an attempt to cool down, both children and adults have been frequenting the Panjkora River. Unfortunately, the absence of proper safety arrangements and the carelessness of children have resulted in tragic incidents.
Last week, two children, identified as 14-year-old Imad and 10-year-old Musa, drowned while bathing in the river. One body has been recovered, but the search for the other child is still ongoing.
Also Read: Local Boxer Fatally Shot in Peshawar
Altaf, Musa's father from the Bevar area, recounted that his son had gone to the Panjkora River to bathe with other children. Musa encountered strong waves, and despite efforts by Al-Khidmat Foundation and Rescue 1122 officials, his body has yet to be found.
It is worth noting that last year, 16 individuals fell victim to the strong currents of the Panjkora River, including two brothers from Wari. Tragically, one school teacher named Razaullah was only recovered from the river after a fourteen-month search.
Shah Wali Khan, the District Emergency Officer of Rescue 1122, emphasized that accidents in the Panjkora River often occur due to people's negligence. He cited an incident from the previous year when two college students, who were brothers, were bathing in the river at Wari. One brother drowned while attempting to save the other from the river's powerful currents.
The Provincial Disaster Management Authority (PDMA) has issued an advisory for Dir Upper and Chitral in response to the severe heatwave. The advisory warns of the risk of glacier melting and an increase in water levels in rivers, urging the cities to take necessary precautions.
Hits: 9