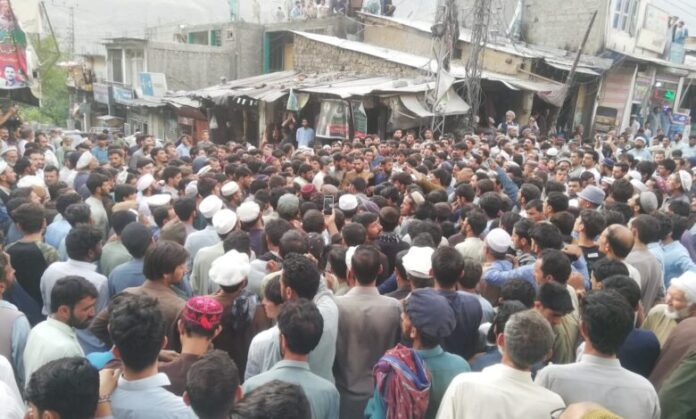 Two individuals lost their lives in a tragic incident as unidentified assailants took their lives and disposed of their bodies within the confines of a forest in the Drosh area of Chitral.
Mourning their loss, the aggrieved family members voiced their grievances by laying the deceased bodies on Drosh Chowk, which lies along the Peshawar-Chitral highway. Their claims suggest that Noor Alam, a member of the timber mafia, orchestrated the murder due to the victims' involvement in wood gathering from the forest.
The protest denouncing the untimely deaths of the two Shah Nigar area residents of Drosh concluded after the police provided reassurances and the thoroughfare was reopened.
Also Read: Unimplemented Minimum Wage Sparks Concern Among Labor Organizations
As recounted by Drosh police authorities, Ehsan ud Din, the son of Mehrab ud Din, and Ashraf Ali, the son of Gul Nayab Shah, both hailing from Shah Nigar, were on their way back from a customary wood-gathering venture on Wednesday. Tragically, their return journey was met with lethal gunfire fired from behind and at close range. The targeted attack resulted in the demise of both individuals on the spot.
Following the incident, local community members, in collaboration with police personnel and rescue teams, transported the bodies to the Tehsil Headquarters Hospital Drosh for post-mortem examination. Notably, Waqar Ahmed, the Chairman of the Shah Nigar Village Council, revealed that Noor Alam had constructed an unauthorized dwelling at the exact location of the crime.
Waqar Ahmed further disclosed that since the occurrence of the incident, Noor Alam has gone into hiding along with his children. According to his account, the heirs of the deceased have officially named Noor Alam in the First Information Report (FIR) filed with the authorities.
Subsequent to the post-mortem procedure, both family members and locals initiated a peaceful sit-in, or dharna, at Drosh Chowk for an hour, urging the swift apprehension of the suspect. In response, Sub Divisional Police Officer Iqbal Karim provided assurance that the apprehension of the accused would be executed within a 48-hour timeframe. Satisfied with the police's commitment, the protestors ended their demonstration and resumed normal traffic flow. The local populace has vociferously demanded stringent punitive measures against the perpetrators responsible for the double murder.
The circumstances surrounding the killings of these two individuals, who were engaged in wood collection from the forest, remain shrouded in mystery, with no definitive identification of the culprits at this juncture.
Hits: 13