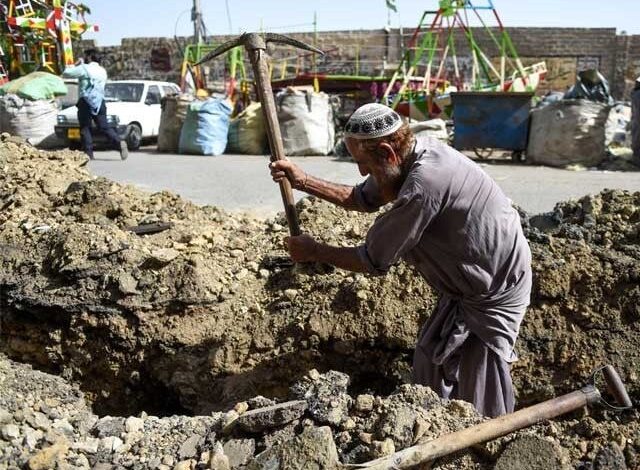 Aftab Mohmand
Despite the stipulation of a minimum monthly wage of 32 thousand rupees for workers in Khyber Pakhtunkhwa, this decision remains unimplemented even after two months, causing growing concerns among labor organizations.
Bilal, a diligent laborer in Peshawar, shared with TNN that the combination of low wages and soaring inflation has placed immense financial strain on daily wage earners. The harsh reality of unemployment and meager wages has driven many laborers towards desperate options like engaging in criminal activities such as prostitution, theft, and robbery. A significant number of workers are also grappling with drug addiction due to the dire circumstances of joblessness and poverty.
Bilal emphasized the urgency of ensuring the enforcement of the decision to establish a minimum monthly wage of 32 thousand rupees for workers. This move would provide some relief to the impoverished laborers during this period of inflation.
Also Read: Nourishing Kids: Building Healthy Habits
According to Razim Khan, the Central Chairman of the Pakistan Workers Federation, on June 20 of this year, the previous provincial caretaker cabinet presented a budget for the next four months, announcing the fixation of the minimum monthly wage for Khyber Pakhtunkhwa workers at 32 thousand rupees.
In July, the Wage Board granted its approval during a meeting, and the Labor Department prepared a summary, which was subsequently sent to the caretaker government. However, the approval of the caretaker Chief Minister of Khyber Pakhtunkhwa is still pending.
In a conversation with TNN, Razam Khan highlighted that the increase in salaries for government employees was rapidly approved, whereas the summary aimed at providing relief to workers has been left unresolved, thus infringing upon their rights.
He emphasized the necessity of promptly approving the summary to augment monthly wages, averting the need for the Pakistan Workers Federation to protest for laborers' rights. Moreover, along with approval, it is the government's responsibility to ensure the effective implementation of this decision.
Razam Khan noted that the combined number of formal (organized sector laborers such as factory workers) and informal workers (unorganized sector laborers working in markets or households, etc.) in the country surpasses one crore. The majority of laborers in the province are not receiving their previously established monthly wage of Rs. 25,000.
Hits: 5