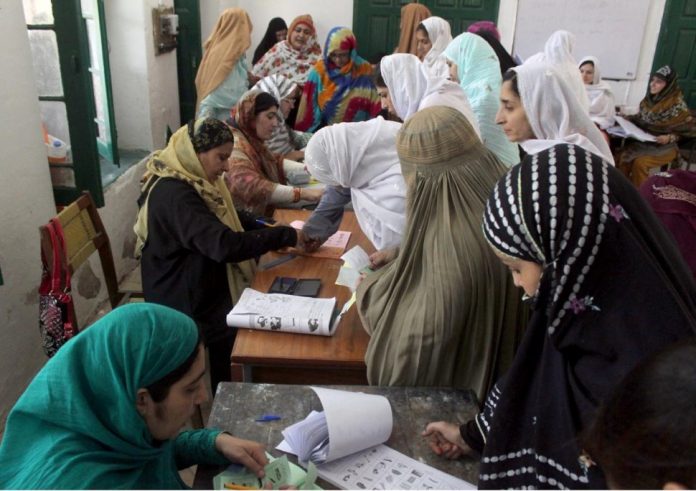 Salma Jehangir
"After affixing the stamp to the paper, I concealed it in my hand, revealing it to my husband to confirm the correct placement," shared Sultana Bibi, a resident of Chamkani in Peshawar, recounting her experience during the 2018 general elections. Being illiterate, she initially hesitated but, at her husband's insistence, went to the polling station. After casting her vote, she discreetly showed the paper to her husband to ensure accuracy. To her surprise, the security guard promptly took the paper from her hand and placed it in the plastic box.
In Khyber Pakhtunkhwa, thousands of women face illiteracy, yet many are determined to exercise their voting rights in the upcoming elections to support their preferred candidates. Recognizing the impact their votes can have on shaping the country's future, these women, despite their educational limitations, aim to contribute to positive change.
The Khyber Pakhtunkhwa Election Commission reported an increase in women voters from approximately 6.7 million in 2018 to around 9.9 million in 2023. Journalist and analyst Muhammad Faheem emphasizes that Sultana Bibi's story is not unique; numerous women either refrain from voting or unintentionally invalidate their votes for various reasons.
Also Read: Tragic Loss: Police Constable Abducted and Murdered in Lakki Marwat
Faheem highlights the lack of prioritization of women in political campaigns, hindering their inclusion in election manifestos. Although women constitute over half of the population, their low voter turnout discourages political parties from focusing on women-centric issues. Faheem stresses the need for political parties to develop specific plans to engage and motivate women to vote.
He observes that men's influence often directs women's voting choices, with little emphasis on educating or empowering female voters. Faheem suggests that political parties must conduct awareness workshops for women, addressing their unique concerns and promoting active participation in the electoral process.
Sardar Hussain Babak underscores the government's responsibility in training women for electoral activities. To attract women who may not value voting, Babak emphasizes the need for comprehensive awareness campaigns and educational initiatives. Bridging the gap in education, addressing cultural practices, and instilling confidence in women voters are crucial steps to ensure meaningful participation in the democratic process.
On the contrary, Mehnaz Karim, a polling officer during the elections, recounted an unsettling incident from the previous elections. An elderly woman arrived at her station to cast her vote, unsure of which symbol to stamp. The woman was mentioning an election symbol in Pashto that nobody understood. Mehnaz mentioned that when the woman left, a commotion erupted outside the polling station, claiming she was denied the right to vote, causing disorder.
Sohail, the Provincial Election Commission spokesperson, asserted that the Election Commission of Pakistan actively provides election awareness and education to all voters. The media wing of the election commission consistently conducts various training campaigns through media channels, especially in Peshawar and Khyber Pakhtunkhwa, aiming to enhance awareness. Mock polling exercises are conducted in educational institutions to familiarize individuals with the voting process. However, challenges persist due to illiteracy, particularly among women, and collaborative efforts from civil society, media, the election commission, and other institutions are underway to educate voters on the voting procedure.
In a notable initiative, the Provincial Voters Education Committee has been established in Khyber Pakhtunkhwa to raise awareness. This committee, comprising representatives from various departments and civil society organizations, collaborates on strategies to increase voter turnout. Recognizing the specific need for awareness among women voters, the Election Commission is actively working on addressing this gap.
The spokesperson highlighted that from January 2021 to August 2023, the media team conducted approximately 366 sessions across the province, emphasizing the significance of voting. Awareness advertisements are broadcast on various TV and radio channels to reach people in remote areas, particularly women.
Provincial President Sardar Hussain Babak acknowledged the efforts of his party in promoting awareness during every election campaign. Regular workshops are conducted, often in remote areas, educating women on the voting process. Babak emphasized that illiteracy is not the sole reason for low female voter turnout. In this province, restrictive customs and traditional beliefs contribute to women's limited participation in public activities. To overcome these challenges, political parties provide transportation facilities to ensure women can easily reach polling stations and cast their votes.
The Provincial Election Commission spokesperson, Sohail, highlighted a new law to increase the number of women voters. Constituencies where less than 10 percent of women have voted may face rejection of results. Care is taken to choose polling stations close to homes, considering the cultural context that women, especially in Pakhtunkhwa, often cannot go out alone. This ensures that women have convenient access to polling stations, allowing them to exercise their voting rights.
Reflecting on this, 46-year-old Bakht Pari acknowledged the benefits of training workshops and advertisements by the Election Commission and political parties. As a regular radio listener, she went to vote for the first time in the last election and correctly cast her vote, thanks to the awareness campaign. Pari mentioned following the instructions learned from programs on how to fold the slip after stamping to prevent the stamp from getting misplaced on another mark.