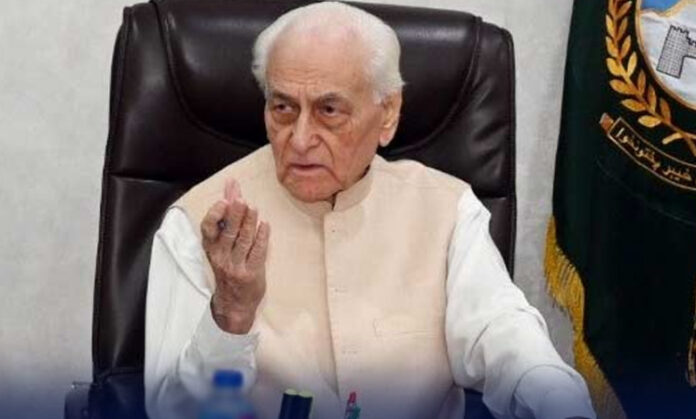 R. Razarwal
In a somber ceremony, the late Caretaker Chief Minister of Khyber Pakhtunkhwa, Azam Khan, found his final resting place today in his native village in the Padang area of Charsadda district. The funeral was attended by a gathering of diverse figures from political, social, and religious spheres, including Sindh Chief Minister Justice Retired Maqbool Baqir and members of the provincial cabinet.
Azam Khan, a prominent figure in Charsadda district, held a law degree from London and served in various governmental capacities before retiring. Family sources reported his demise at the age of 89.
His tenure as Caretaker Chief Minister commenced in January this year, following the dissolution of both the Khyber Pakhtunkhwa and Punjab assemblies by PTI chairman Imran Khan. Azam Khan's illustrious career included roles as Chief Secretary of Khyber Pakhtunkhwa Province from 1990 to 1993 and Finance Minister in the Caretaker Cabinet of 2008. Additionally, he served as the Secretary of the Pakistan Tobacco Board and Interior Minister in the caretaker cabinet of 2018.
Also Read: Health Hub for Mothers and Children Opens in Tangi, Charsadda
Despite his advanced age, Azam Khan was known for his dedication and vigor in performing his duties. Supervising Health Minister Dr. Riaz Anwar attested to his admirable qualities, stating, "He never felt old age as a weakness, never leaving his work unfinished. He expected the same from his ministers."
Dr. Riaz lamented the void left by Azam Khan's passing, recognizing him as a rare individual whose service to society spanned generations.
With the Caretaker Chief Minister's demise, questions arise about his successor and the constitutional process that will unfold. Constitutional expert Qaiser Khan explained that the Senate and the Election Commission of Pakistan, independent institutions, play a crucial role in the election of a new Chief Minister.
"In such a case, Article 234 of the Constitution of Pakistan is very clear. When the Chief Minister dies, the provincial cabinet will be dissolved," stated Qaiser Khan. He outlined the process where the Leader of the House and the Leader of the Opposition in the Senate would collaborate to elect the Chief Minister. If consensus eludes them, the Election Commission gains authority, and the entire process concludes within a week.
Qaiser Khan emphasized the importance of consultation between the Leader of the House, the Leader of the Opposition, and the Election Commission. Failure to agree on a name could escalate the matter to the Supreme Court.
It's crucial to note that, as per the Constitution of Pakistan, the Provincial Cabinet automatically dissolves after the Chief Minister's death, paving the way for the election of a new Chief Minister and subsequent formation of the Provincial Cabinet.