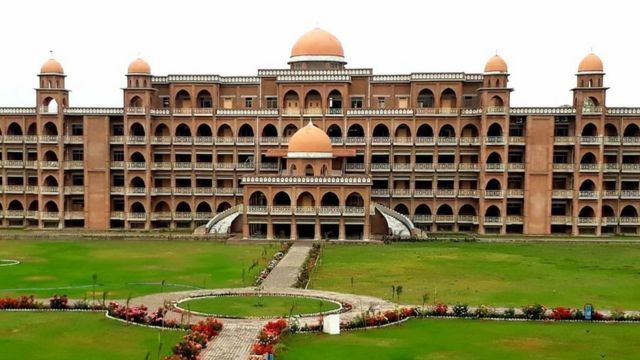 The University of Peshawar (UoP), the largest institution in Khyber Pakhtunkhwa, is yet again ensnared in a crisis. With funds for salaries eluding the administration and a looming teacher strike, the university's stability hangs in the balance.
Acting Vice-Chancellor of UOP, Prof. Jahan Bakht, penned a missive to the Higher Education Department, highlighting the institution's fiscal constraints. The letter underscored that Peshawar University's coffers are insufficient even to cover employee salaries for August. A staggering Rs 32.52 crore is urgently required, with Rs 20 crore earmarked for salaries, Rs 3.5 crore for electricity dues, Rs 10 crore for pensions, and Rs 2 crore for additional expenses.
Evidently, the university's meager reserve of Rs 2.97 crore is far from meeting this substantial financial demand, leaving the institution grappling for resources. The precarious situation portends dire consequences – employees will suffer, and the university's operational facets are poised for disruption.
Also Read: Monsoon Alert: Khyber Pakhtunkhwa Gears Up for Heavy Rainfall
In tandem with this financial turmoil, the university's employees have once again raised the specter of a strike. The Peshawar University Employees' Joint Action Committee (JAC) has issued a stark ultimatum: unless the government-imposed salary increase is promptly enacted, a comprehensive strike will shutter the university until their demands are met in September.
The assembly, presided over by Dr. Muhammad Uzair, included representatives from various tiers, encompassing teachers, staff of classes three and four, and sanitation workers. During the meeting, a palpable disquiet was articulated. The principle of the university's autonomy, often touted as its strength, is now paradoxically being exploited to enforce self-sufficiency. This narrative contends that the institution, though autonomous, must generate its income. Yet, the provincial government's unrelenting interference in administrative matters has blurred this boundary.
Attendees underscored that this incongruity has left Peshawar varsity employees bereft of allowances that their counterparts in other government institutions enjoy. The glaring disparity engenders a growing sense of emotional deprivation among staff, fostering a climate of uncertainty.
Furthermore, the participants criticized the Higher Education Commission for its substantial expenditure on sending faculty members abroad for advanced studies, only to witness their exodus due to the government's lackluster policies. This situation is exacerbated by the tardy disbursement of last month's salaries, which reflects an indifference within the Chancellor's office.
Notably, the University of Peshawar employees have been in a state of continuous protest. This year, the "Joint Action Committee" of teachers and other staff embarked on a strike on March 7 following the tragic killing of security supervisor Saqlain Bangash. This work stoppage disrupted educational and administrative activities for approximately six weeks. Although the strike concluded and classes briefly resumed, a summer break was subsequently instituted. As the resumption of classes looms in September, university employees are once again poised to initiate a strike.
In light of these circumstances, it's essential to acknowledge that over 17,000 male and female students are enrolled in 52 departments of Peshawar University. Their sense of security and academic pursuits hang in uncertainty due to the recurring disruptions, strikes, and protests plaguing the institution.
Hits: 4