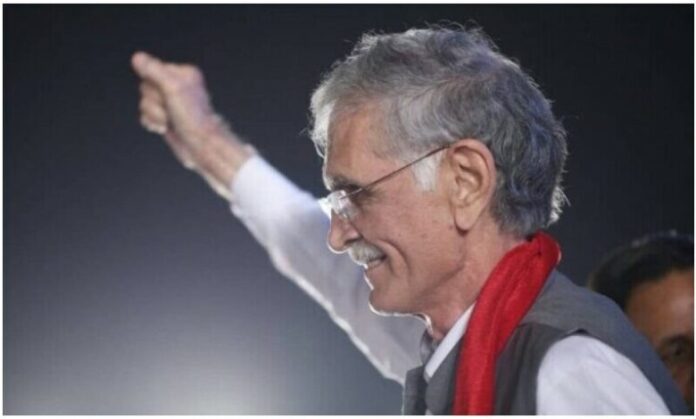 Several former members of the Tehreek-e-Insaf Khyber Pakhtunkhwa have come forward to reject the claims made by Pervez Khattak regarding their joining his new party.
Khattak, who recently separated from Tehreek-e-Insaf and formed his own party named PTI Parliamentarians, had previously stated that 57 members from the PTI had joined his party. However, many of these former PTI members have now refuted these claims.
Prominent PTI leaders such as Pir Mussawir Khan, Azam Khan, Iftikhar Mashwani, Wazirzada, Mushtaq Ghani, and Nawabzada Farid have released statements rejecting Khattak's assertions of their involvement in his new party. They affirm that they are still part of the PTI and deny attending Khattak's party or function. They assert that they have not joined any other party and have no intention of doing so.
Also Read: Empowering Journalists: Training for Safety and Reporting
Former Chief Minister of Khyber Pakhtunkhwa and former Special Assistant on Minority Affairs, Wazirzada, has addressed the issue in a video statement, confirming that he did not attend any meeting nor join Pervez Khattak's party. He denies the news of his departure from the PTI.
Khyber Pakhtunkhwa Assembly Speaker Mushtaq Ahmad Ghani questions the validity of Khattak's claim, stating that he is currently out of the country for medical treatment and has not participated in any meetings. He confirms that he remains associated with the PTI.
In a notable error, Parvez Khattak's party included the picture of the late Waqar Khan instead of Fazal e Maula in the list issued by him. Waqar Khan, who was an ANP leader, passed away some time ago.
Ghazan Jamal, a former MPA, who was claimed by Khattak to have joined his party, expresses his disillusionment with the current political situation. He announces his decision to quit politics and disassociate himself from any political party. He mentions his service to the people during his time in the PTI government and states his commitment to continue serving the people even outside of politics.
It should be noted that Pervez Khattak, former Federal Defense Minister, announced the formation of his new political party, PTI Parliamentarians, after parting ways with the PTI. Former Khyber Pakhtunkhwa Chief Minister Mehmood Khan is also associated with Khattak's new party.
However, the claims of 57 former PTI members joining the new party have been met with denials and refutations from several prominent PTI leaders.
Hits: 5