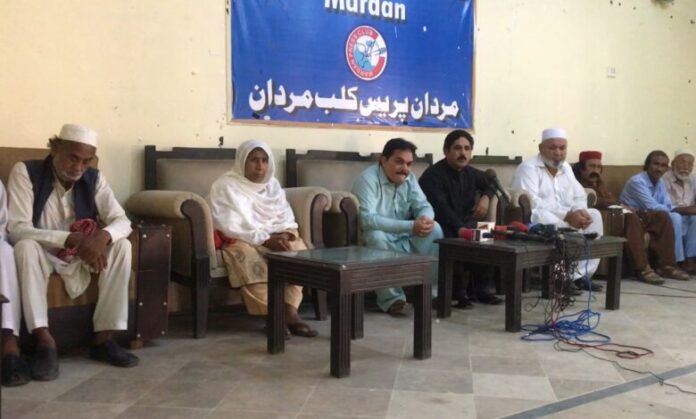 Abdul Sattar
'Hunari Tolana,' an artists' organization based in Mardan district, has raised serious concerns over the disbursement of funds from the Federal Social Welfare Fund for Musicians. Allegations have been made that the funds, intended for deserving artists, have been distributed to individuals without merit under the influence of the relevant committee. The organization is demanding that rightful recipients be granted their due share.
Addressing a press conference at Mardan Press Club, the organization's president and artist Salim Daryab, along with general secretary Siraj Shah and information secretary Abdul Qayyum, highlighted that the funds allocated for social welfare of musicians in Khyber Pakhtunkhwa were released on the recommendation of former prime minister's adviser Amir Muqam. A committee comprising Karan Khan, Afsar Afghan, and Laila Khan was formed to oversee the distribution.
The organization's president accused the committee of conducting an unfair distribution, disregarding deserving artists and musicians. Notably, Mardan holds the distinction of being the second-largest city in the province, with a vibrant musical heritage. Daryab emphasized that renowned musicians from the region have been overlooked in the allocation process.
Also Read: Two Policemen Killed, Three Injured in Lakki Marwat Firing Incident
Daryab further revealed that no artist from Mardan district received funds from the committee's allocation of Rs. 15 to 20 crore. He alleged that committee members extended funds to undeserving family members and neglected eminent musicians dedicated to serving the Pashto language.
Salim Daryab, a respected musician, emphasized that recipients of the presidential award, Qamaro Jana and Liaquat Ustad, were among those unjustly denied access to the social welfare fund. He criticized the committee's lack of knowledge regarding veteran artists and urged a comprehensive review of the distribution process.
'Hunari Tolana' officials deplored the distribution of funds to non-musicians instead of rightful recipients. They demanded a thorough inquiry into the distribution of federal social welfare funds for musicians, calling for justice to be delivered to the deserving artists.
Among the attendees at the press conference was Jan Wari aka Baba, a female musician from Takht Bhai, who shared her forty-year musical journey devoid of government support and funding.
In response, Afsar Afghan, a committee member, clarified that a three-member steering committee led by Dr. Karan Khan was formed, with Leila Khan and himself as members. This committee was constituted by the National Heritage and Culture Division under Amir Muqam's leadership.
Afghan emphasized that the selection process was devoid of nepotism, with a focus on merit-based decisions. He mentioned that the committee reviewed an initial list, which was modified after objections were raised to ensure the inclusion of deserving artists.
The National Heritage and Culture Division clarified that the steering committee from Khyber Pakhtunkhwa, in conjunction with committees from other provinces, will collectively select beneficiaries in Islamabad.
Afghan concluded by stating that there are around 4000 registered artists in Khyber Pakhtunkhwa, and further meetings of the committee are scheduled to expand the list of beneficiaries.
Hits: 5